Explore exciting technologies and innovations through RAPID's rich and varied presentations, exhibitors and special events.
ORLANDO, Fla., May 11, 2016 /PRNewswire-USNewswire/ -- SME's RAPID Conference & Exposition arrives at the Orange County Convention Center in Orlando, Florida, from May 16-19. RAPID is an exhilarating, hands-on learning experience featuring 3D innovation and expertise from around the world. Additive manufacturing continues to evolve: experience the technology showcase and product introductions that can only be found at RAPID. Explore exciting technologies and innovations through RAPID's rich and varied presentations, exhibitors and special events.

Here are 5 things you only see at RAPID 2016:
3D printed tracheas, 4D printing, and what's next for additive manufacturing - At Wednesday's RAPID keynote, learn how 3D printed tracheas have saved the lives of multiple children. Join Robert Morrison, MD, resident, otolaryngology - head & neck surgery, University of Michigan, Ann Arbor and Scott Hollister, PhD, professor of biomedical engineering and mechanical engineering, University of Michigan, Ann Arbor, as they discuss how thoughtful device design and biomaterial selection allows production of medical devices that change with growing anatomy, also referred to as "4D printing."
Runway at RAPID - RAPID's 3D Fashion Showcase features the latest creations from the world's leading 3D print designers. The show gets started at 4:45 pm on Wednesday, just before the show floor networking reception
Beyond paint and marble - The RAPID 3D Art Gallery highlights the innovative new approach to art creation and production that's made possible by additive manufacturing, 3D printing, 3D imaging, and digital sculpture. This high-speed, on-demand medium allows the impossible to be possible from the finite barriers of reproduction for a single artist to the unlimited reproductions of artists' works.
Not your kid's playground - Swings and slides aren't featured on the RAPID 3D Playground, but you get hands on opportunities with 3D scanning, 3D printing, specialized materials, and new production solutions. See how these solutions are being applied to tooling and end-use applications. Talk with the operators about their experiences to expand your understanding of this rapidly growing field.
Medical Manufacturing Innovations - RAPID offers a Medical Manufacturing Innovations Series, which includes in-depth sessions covering design and manufacture of implants, dental devices, tissue, and more using a variety of additive technologies. With medical/biomedical being one of the fastest growing application areas of additive manufacturing, MMI expands the medical focus at RAPID 2016.
In addition to our 5 features above, RAPID also offers comprehensive Show Floor Tours. One of SME's Additive Manufacturing Community experts will guide you through the show floor, where you'll see key technologies, processes, and innovations. This year, RAPID is offering a metal additive manufacturing-focused tour, as well as a medical-focused tour.
Media registration is available here. To learn more about the event and keynote presentations, please visit www.rapid3devent.com.
About RAPID
For over 25 years, the RAPID Conference & Exposition, produced by SME, has defined the crucial role of additive manufacturing and empowered the establishment of an industry that continues to conceive, test, improve and manufacture new products at a faster, more cost-efficient pace. As the leader and authority figure in additive manufacturing, RAPID attracts buyers, sellers and end-users of design, prototyping, tooling and direct digital technologies to a world-class event for discovery, innovation and networking. For more information, please visit rapid3devent.com.
About SME
SME connects all those who are passionate about making things that improve our world. As a nonprofit organization, SME has served practitioners, companies, educators, government and communities across the manufacturing spectrum for more than 80 years. Through its strategic areas of events, media, membership, training and development, and the SME Education Foundation, SME is uniquely dedicated to advancing manufacturing by addressing both knowledge and skill needs for industry. Follow @SME_MFG on Twitter or facebook.com/smemfg.
Featured Product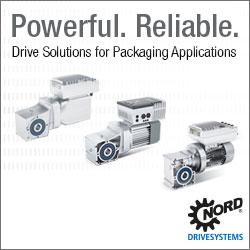 NORD gear units, motors, and electronic control products focus on durability, adaptability, and high efficiency for a wide range of manufacturing applications with over 20,000,000 standard configuration options. Featuring IE5+ PMS motors that can work effectively at partial loads and low speeds thanks to their constant torque and high overload capacity. Their smooth surface and ventilated designs provide ultimate versatility and variant reduction. Combined with surface protection options, such as IP69k or NORD's state-of-the-art nsd tupH Sealed Surface Conversion System, NORD drives are ready to take on the demands of extreme manufacturing environments.