These awards are given to products demonstrating excellence and innovation in the surface mount and electronics industry
East Providence, RI USA - May 5, 2016 - Nordson EFD, a Nordson company (NASDAQ: NDSN), the world's leading precision fluid dispensing systems manufacturer, announces its piezoelectric PICO® Pµlse™ jetting system was recently recognized with two prestigious industry awards for excellence, a 2016 EM Asia Innovation Award and an SMT China VISION Award.

The EM Asia Innovation Award, now in its 11th year, recognizes excellence and leadership through innovation within the Asian electronics industry. The awards ceremony was held on April 27 in Shanghai during NEPCON China.
SMT China's 10th annual VISION Awards were announced just a day earlier at NEPCON China, with the PICO Pµlse winning in the Dispensing Equipment category. The SMT VISION Award, which recognizes excellence in the surface mount industry, is also the only international accreditation within China's electronics manufacturing industry.
"It is an honor to be awarded such prestigious recognition in the surface mount and electronics industries in Asia," said Claude Bergeron, Nordson EFD Product Line Manager - Valves. "We designed the Pµlse jetting system to work in an environment where needs change constantly. Its modularity combined with market-leading speed, accuracy, and ease-of-use delivers a great deal of cost-saving value to our customers."
EFD's new PICO Pµlse is a non-contact jet dispensing system that includes an intuitive PICO Toµch touchscreen controller to provide unmatched efficiency, quality, profitability, and process control.
Its innovative design allows it to deliver highly precise and repeatable micro-deposits as small as 0.5 nL at 500Hz continuous, with bursts up to 1500Hz. View the Pµlse video for more details.
For more information visit Nordson EFD on the web at www.nordsonefd.com/PICO, www.facebook.com/NordsonEFD, or www.linkedin.com/company/nordson-efd, email info@nordsonefd.com, or call +1 401.431.7000 or 800.556.3484. For Nordson EFD LLC sales and service in over 40 countries, contact Nordson EFD or go to www.nordsonefd.com.
Featured Product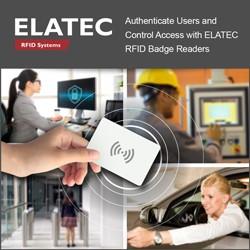 With a tap of the badge, RFID readers from ELATEC provide secure, reliable and easy-to-use user authentication, access control and usage tracking of hardware and software in industrial automation processes. Reader durability in harsh plant floor environments is another essential feature. Choose the right authentication and access control solution and extend RFID card-based capability for the access control of PLC, robot and HMI automation controller software and devices requiring special operator training.