To answer the demands from Dassault Systèmes SOLIDWORKS users, Elysium has enhanced the CADfeature product family to include the support for associative drawing creation in SOLIDWORKS.
HAMAMATSU, Japan—May 10, 2016—Elysium, a leading global provider of data translation software, announces the release of CADfeature 14.0. CADfeature is a feature based translation system that offers complete design intent with the scalability to address the needs of individual designers or globe-spanning enterprises. To answer the demands from Dassault Systèmes SOLIDWORKS users, Elysium has enhanced the CADfeature product family to include the support for associative drawing creation in SOLIDWORKS.

Elysium has been supporting many migration projects at world-leading enterprises with its unique set of tools to support advanced and sophisticated interoperability requirements. Those strategic migration projects have been completed to provide significant enhancements to the CADfeature platform. In this new release, Elysium partnered with Dassault Systèmes SOLIDWORKS API development group to enhance CADfeature and added support for associative drawing creations in SOLIDWORKS including:
All view types (Projection, Section, Auxiliary, Isometric, Detail, Break View, Broken-Out Section)
Font mapping
Component view visibility override
2D Annotation (Symbols, Dimensions, Notes, GTols, Centerlines, and Centermarks)
"We are excited with the new enhancements to Elysiums CADfeature product line as it will provide a much higher level of data interoperability with SOLIDWORKS and we look forward to building upon our partnership with Elysium in the future," states Kurt Lundstedt, Manager, SOLIDWORKS Product Portfolio Management, Dassault Systèmes.
"Elysium is very proud to announce the final release candidate of CADfeature version 14 which, amongst many enhancements, now supports the ability to create drawings in SOLIDWORKS 2016," states Kensuke Tashiro, Managing Director of Elysium Europe. "This effort was possible with our new relationship with Dassault Systèmes SOLIDWORKS API Development and Product Management Teams. We continually work to maintain our ability to provide the highest fidelity within the most complex of CAD translation functions, such as drawing translation, which is a 'black belt art. Our efforts would not be possible without the efforts set forth by Dassault Systèmes SOLIDWORKS API Development team to provide the many APIs for this latest enhancement to CADfeature. We are proud to add Dassault Systèmes SOLIDWORKS to the drawing translation library. Elysium maintains its relationships with all CAD OEMs to provide for the future of high fidelity multi-CAD support."
About Elysium
Elysium develops interoperability solutions for digital design and PLM markets, with millions of files translated and thousands of customers worldwide. Founded in 1984, Elysium is headquartered in Hamamatsu, Japan, and has additional offices in Paris, France, Southfield, MI, Huntington Beach, CA. Elysium currently supports data exchange among ACIS, CADmeister, CATIA V4/V5/V6, Creo, Creo Elements/Direct, DELMIA, Inventor, JT, NX, NX I-deas, Parasolid, SIMULIA Abaqus, SOLIDWORKS, Systema, 3D XML, XVL and the IGES, STEP and STL standards. Elysium products, including ASFALIS, CADdoctor and CADfeature, are the favored solutions of many leading companies for translating, repairing, and ensuring the product data quality of 3D CAD/CAM and CAE models.
For more information about Elysium products and services, visit www.elysium-global.com.
Featured Product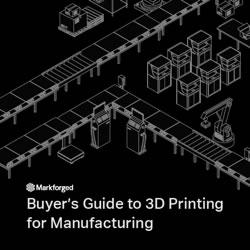 3D printing has become a powerful force in today's manufacturing industry from prototyping to tooling and fixtures to custom, end-use parts. Many businesses struggle to find the right solutions to fit their needs and provide ROI. Selecting the right platform to prevent manufacturing roadblocks is vital to optimizing your manufacturing line productivity. Download the all new buyer's guide to help you evaluate the benefits of 3D printing and dispel misconceptions, understand the pros/cons of various 3D printing processes and materials, and assess the key considerations in selecting a 3D printer.