Mouser received the award for helping Molex achieve outstanding financial growth in Internet-based e-catalog sales, as well as attaining significant customer growth for Molex worldwide.
DALLAS & FORT WORTH, Texas--(BUSINESS WIRE)--Mouser Electronics, Inc., the global authorized distributor with the newest semiconductors and electronic components, has been named the 2015 Global e-Catalog Distributor of the Year for the third-straight year by Molex LLC, a leading manufacturer of interconnect solutions. Mouser is the only e-catalog distributor to win this award consecutively. Mouser received the award for helping Molex achieve outstanding financial growth in Internet-based e-catalog sales, as well as attaining significant customer growth for Molex worldwide.

"We at Molex have come to rely on Mousers best-in-class customer service and e-catalog sales and weve never been disappointed. Mouser consistently outperforms expectations," said Fred Bell, Vice President, Global Distribution, Molex. "It is fitting to honor Mouser again with this award. Our e-commerce through Mouser has taken over a significant percentage of our business, and web sales rank among the fastest-growing distributor channels."
"All of us at Mouser are very pleased and proud to again receive this Global e-Catalog sales award from Molex," said Jeff Newell, Senior Vice President of Products at Mouser Electronics. "Winning once is a great honor. Winning three times in a row is astounding for us."
"Helping our manufacturing partners build their business is what we do here at Mouser," Newell added. "Our goal is to be the distributor that consistently provides the broadest selection of Molex products. Mouser stocked and promoted every new product introduced by Molex in the past year. We look forward to continuing to be the leading new product and catalog distributor for Molex, as well as all of our partners."
Mouser offers same-day shipping for Molex's vast product line including connectors, wire and cable assemblies. Mouser provides outstanding customer support that includes detailed product listings, full technical specifications and diagrams, and online training resources for Molex components. Mouser also offers Molex mobile apps for iOS® and Android™ devices that allow customers to visually compare and quickly identify Molex products that suit an engineer's design needs. Mousers parent company, TTI, was honored with the Global Distributor of the Year 2015 Award from Molex. To learn more about Molex, visit http://www.mouser.com/molex/.
With its broad product line and unsurpassed customer service, Mouser caters to design engineers and buyers by delivering Whats Next in advanced technologies. Mouser offers customers 22 global support locations and stocks the worlds widest selection of the latest semiconductors and electronic components for the newest design projects. Mouser Electronics website is updated daily and searches more than 10 million products to locate over 4 million orderable part numbers available for easy online purchase. Mouser.com also houses an industry-first interactive catalog, data sheets, supplier-specific reference designs, application notes, technical design information, and engineering tools.
About Mouser Electronics
Mouser Electronics, a subsidiary of TTI, Inc., is part of Warren Buffett's Berkshire Hathaway family of companies. Mouser is an award-winning, authorized semiconductor and electronic component distributor, focused on the rapid introduction of new products and technologies to electronic design engineers and buyers. Mouser.com features more than 4 million products online from more than 600 manufacturers. Mouser publishes multiple catalogs per year providing designers with up-to-date data on the components now available for the next generation of electronic devices. Mouser ships globally to over 500,000 customers in 170 countries from its 750,000 sq. ft. state-of-the-art facility south of Dallas, Texas. For more information, visit www.mouser.com.
Featured Product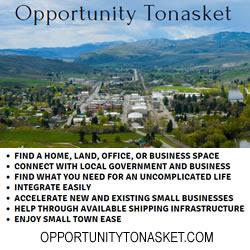 Our primary mission is to promote economic development and growth in the city of Tonasket, WA and surrounding area. This is a group of local citizens sharing a common goal. We wish to assist and promote existing businesses wishing to relocate, local businesses wishing to expand and local individuals wanting to startup a business. Preserving and enhancing the small town and rural lifestyle in a way which benefits everybody and maintains a healthy lifestyle. Opportunity Tonasket was created to be a hub for information and contacts with local city and county agencies, as well as local businesses and real estate connections. Their goal is to connect current and newly relocated individuals and businesses and "plug them in" with the best services, advice and experts in the area. Opportunity Tonasket is like a leg-up, as if one's already had a foothold in the community.