Each ModuleWorks release contains many new and enhanced features across the product range. This latest version includes new features for 5-Axis, 3-Axis and Simulation.
May 3, 2016 -- ModuleWorks, the leading supplier of CAD/CAM components for toolpath generation and simulation, has announced the latest release of its CAM components, ModuleWorks 2016.04, the first major update of 2016. Each ModuleWorks release contains many new and enhanced features across the product range. This latest version includes new features for 5-Axis, 3-Axis and Simulation.

ModuleWorks is at the forefront of 5-Axis machining and simulation technology, providing the toolpath and simulation technology that powers many of the leading CAM systems available around the world today.
Highlights of the new release are shown below:
5-Axis Machining
The new tilting to common direction feature enables you to find a single tool axis orientation, either on the full toolpath or on an individual contour. It can be used for all tilting strategies. When tilting to a common direction, the tool axis is set to a normalized, single direction for all toolpath points.
Tilting to common direction
Laser aided manufacturing is a new toolpath creation feature that can be used for motion control of manufacturing systems that are mounted either on robots or inside standard milling machines.
The new adaptive roughing strategy ensures the cutting conditions remain almost constant. This offers significant improvements compared to conventional constant offset roughing strategies. The strategy avoids full-width cuts and guarantees a stable load on the tool which enables a faster material removal rate.
3-Axis Machining
With the new lead-in/ lead-out extensions, the approach and retraction movements are smoother and more gradual.
Lead-in/ lead-out extensions
The new 3D trimmer for triangle and mesh parallel cuts significantly improves the quality of rest finishing toolpaths and the accuracy of the steep shallow boundary calculation.
A new feature for avoiding plunge during adaptive roughing enables you to machine only the pockets where the helical approach can be performed.
Simulation
Tailstock is a new type of object available in the machine definition for simulation. Tailstocks are mostly used to center a rotary part on a lath to avoid bending and vibrations while machining. The entire tailstock can be moved along a linear axis until it touches a stock or workpiece that is clamped on the machine. The simulation shows the complete range of the stock's functionality.
Tailstock
The measuring functionality to measure the distance between points has been extended and can now be used between machine components.
A new context menu is available in the graphical area to make it easier to access and use common commands. In MachSim the end-user can now double-right-click on any object to highlight it in the simulation environment and Machine tree window.
The 2016.04 release is now available to all partners from the customer download area at www.ModuleWorks.com. Contact ModuleWorks for further information.
About ModuleWorks
ModuleWorks is a software component provider for the CAD/CAM industry. ModuleWorks expertise in Toolpath Creation and Simulation is recognized throughout the CAM industry and its software components and development services are used by the majority of the leading CAM vendors. ModuleWorks 5-Axis and Simulation software has been used in the manufacture of complex parts for over a decade and they have many users across the global CAD/CAM industry.
www.moduleworks.com
Featured Product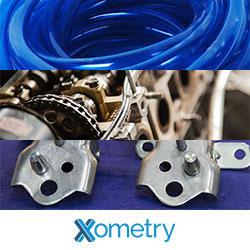 Xometry is your source for custom parts. Now, in addition to getting instant quotes on 3D Printing, CNC Machining, Sheet Metal, and Injection Molding, customers can create and send RFQs for die casting, stamping, and extrusion work to our nationwide network of pre-vetted manufacturers with just a 2D drawing. You will receive and be able to review responses from qualified shops within 7 days on an advanced web-based RFQ management platform. To learn more go directly to our site to issue and RFQ today. Stop wasting time managing RFQs through email and by phone, and start issuing RFQs at scale and in the cloud.