Where torches and power supplies may once have been the main focus for a welding equipment supplier, at Hannover Messe 2016, it was the Insight Centerpoint™ real-time process control software that took pride of place on the Miller stand.
HANOVER, Germany (4th May, 2016) —At the recent Hannover Messe for industrial technology, it was not the familiar blue Miller power supply units that captured the attention of passing visitors, rather the large computer screens that characterized the welding specialists booth. These screens proudly displayed the companys industry-leading Insight Centerpoint™ welding information management system, which communicates in real-time with an automated welding cells power supply and robotic welding arm via Ethernet. The Miller software can even be applied to power supplies from other suppliers with the help of Insight ArcAgent™ modules, allowing manufacturers with multiple brands of welding equipment in their factories to take advantage of the technology.

"In addition to having industry-leading arc technology, Miller has added powerful software that puts our customers at the forefront of Industrie 4.0 integration," says Grant Harvey, Senior Vice President of International Sales and Marketing at Miller parent company ITW Welding.
Insight Centerpoint™ not only monitors each weld on a component, but also presents instructions for loading fixtures, welding sequences, and other non-welding work instructions. The software can also present information on cycle times, weld faults, heat input, and much more. If weld output parameters such as weld duration, deposition, current, or voltage, fall outside of the acceptable thresholds, alerts are issued to management and auto-shutdown can be initiated.
"This type of machine-to-machine communication ensures greater quality of welds - and, therefore, greater quality for the end user of the welded product - as well as greater flexibility, productivity and efficiency. Faults are kept to minimum, which means more arc on-time and minimal material wastage, and different parts can be welded one after the other without having to change the settings," Harvey says.
The Miller process control software is currently the most advanced in the welding industry. This IT capability is supported by a team of software and hardware engineers with over 20 years experience in this type of technology. "No other welding supplier has this expertise in-house," he adds.
Insight Centerpoint™ is just one tool that Miller customers can use to help implement Industrie 4.0 design principles in their operations. At Hannover Messe 2016, Miller also showcased the Ethernet-enabled TOUGH GUN™ TT3E reamer from its ITW Welding sister brand, Tregaskiss. The Tregaskiss TOUGH GUN™ TT3E reamer is an automated nozzle cleaning station, which keeps the welding systems torch and nozzle clean by periodically shaving out spatter and dirt, based on time or the number of cycles.
"All these capabilities mean we are well positioned to help our customers move into Industrie 4.0 with intelligent and flexible systems tailored to their needs," he says.
Cooperation with KUKA
Miller welding products can be combined with robotic welding arms from any number of suppliers but the US-headquartered company has developed a particularly strong relationship with German robotics giant KUKA. During Hannover Messe the two leaders in their respective fields signed a memorandum of understanding during a special ceremony at the KUKA booth. The official cooperation agreement will make it even quicker and easier for customers to get their robotic welding cells up and running with Millers industry-leading automation welding systems.
Documents were signed in ink by Stefan Lampa, CEO of KUKA, and Tim Temby, Group President of ITW Welding, and in metal. Their signatures were welded onto a plaque using tablet software developed especially for the occasion.
The ceremony was witnessed by senior leaders at KUKA and Miller, as well as exhibition visitors, press and Kenneth E. Hyatt, US Deputy Under Secretary for International Trade. With the USA as the official partner country for 2016, the event was one of several important examples of US-German collaboration highlighted at Hanover Fair 2016.
"Miller has strong brand recognition in North America and is rapidly growing a strong reputation in Europe so its a huge coup for us to have such a major player in the European robotics industry validate our technology and publicly put their name behind us. This agreement strengthens our position in the field of automated welding on both sides of the Atlantic and we look forward to a long and mutually prosperous future together," Harvey concludes.
Featured Product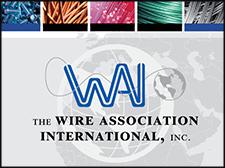 Today Industry 4.0 captures the imagination of wire makers. It introduces change. Automation, robotics, and data analytics affect the way wire is made and how well companies compete on the world stage. You are invited to explore the possibilities at The Wire Association's Virtual Industry 4.0 conference, Oct. 26-27, 2021. Hear from the machinery makers and software suppliers who can help you realize your goals. Learn what these changes mean for your plant and personnel. And find out what is imminent and what is already here to stay.