Through "Live Technology Magic Show," Mitnick to Demonstrate the Importance of Cyber Security Across Connected Manufacturing, June 16 in New York City
SANTA MONICA, Calif., April 28, 2016 /PRNewswire/ -- Kevin Mitnick, the world's most famous hacker, will reveal the latest threats to prove the importance of cyber security at the largest East Coast advanced manufacturing event this June. As manufacturing and mobile health rely increasingly on machine-to-machine communications and the Internet of Things to power connected devices, security has become a top priority across the industry.

Mitnick will deliver a keynote address for an expected 11,000 attendees of UBM America's East Coast advanced manufacturing event held June 14-16 at the Jacob K. Javits Convention Center in New York City. The event features seven co-located Expos covering the entire range of industry verticals, including medtech powerhouse event MD&M East.
From Most Wanted Black Hat to White Hat
Once one of the FBI's Most Wanted for hacking into 40 major corporations just for the challenge, Kevin is now a trusted security consultant to the Fortune 500 and governments worldwide. As CEO and chief "white hat" hacker at one of the most advanced boutique security firms in the world, he and The Global Ghost Team™ now maintain a 100 percent successful track record of being able to penetrate the security of any system they are paid to hack into using a combination of technical exploits and social engineering.
The Art of Deception: How Hackers and Con Artists Manipulate You and What You Can Do About It
During his keynote address on June 16, Kevin will demonstrate how easily you can fall victim to a motivated hacker with malicious intent. People are the weakest security link. They can be manipulated into unknowingly helping hackers break into their organization's devices - think about the potential impact and damage to manufacturing operations! Kevin will perform his "live technology magic show" of the latest social engineering techniques. You'll learn how to detect manipulation and take steps to protect yourself and your organization by thinking defensively.
"As one of the world's most respected authorities on cyber security, Kevin Mitnick is the perfect addition to the event's already stellar keynote lineup," said Stephen Corrick, senior vice president and portfolio director of UBM Americas' Advanced Manufacturing group. "Security breaches dominate the headlines, and we don't want the next feature story to be about one of our community's own. As remotely controlled devices - from mobile health to factory equipment - become the new standard, we want to help arm organizations against cyber threats."
Previously Announced Keynote Speakers include Astronaut and Former CEO
Each morning of the event will open with a thought-provoking keynote address by one of the industry's biggest thinkers. For the first time, the keynote presentations will be open to Expo pass holders across all industries. The full keynote schedule is as follows:
Day 1, Inspirational (Tuesday, June 14): Dr. Leroy Chiao - Astronaut and Pioneer in Commercial Spaceflight
Day 2, Aspirational (Wednesday, June 15): Martin McCourt - Former CEO of Dyson
Day 3, Technical (Thursday, June 16): Kevin Mitnick - The World's Most Famous Hacker
Keynote presentations will take place at the start of each day of the event, June 14-16, 9:00-9:45am.
To request a Media Pass to attend keynotes along all seven co-located events, visit: https://newyork.am.ubm.com/2016/registrations/media
Beyond access to the keynote presentations, attendees will have the chance to meet with top suppliers, demo cutting edge innovations, and build relationships with other professionals across the community. From complimentary content on the Expo floor, to exclusive educational opportunities across conference tracks, the event will cover the industry's most trending topics.
To learn more about the seven co-located advanced manufacturing Expos happening June 14-16 at the Jacob K. Javits Convention Center in New York, NY, please visit:
Medical Design & Manufacturing (MD&M) East
EastPack
ATX (Automation Technology) East
Atlantic Design & Manufacturing
PLASTEC East
HBA Global
Quality Expo East
About Advanced Manufacturing Expos & Conferences
UBM's Advanced Manufacturing portfolio is the leading B-to-B event producer, publisher, and digital media business for the world's $3 trillion advanced, technology-based manufacturing industry. Our print and electronic products deliver trusted information to the advanced manufacturing market and leverage our proprietary 1.3 million name database to connect suppliers with buyers and purchase influencers. We produce more than 50 events and conferences in a dozen countries, connecting manufacturing professionals from around the globe. The Advanced Manufacturing portfolio is organized by UBM Americas, a part of UBM plc (UBM.L), an Events First marketing and communication services business. For more information, visit ubmamericas.com.
Featured Product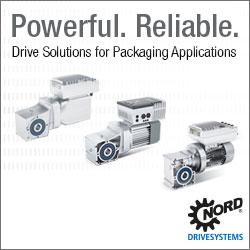 NORD's redesigned line of small CLINCHER parallel gear units showcase increased power and torque capacity for a variety of applications. These re-engineered versions will be replacing the existing SK0182NB, 0282NB, and 1382NB units. They are lightweight, have improved heat dissipation, are more cost-effective, and are available with NORD nsd tupHTM sealed surface conversion for wash-down and extreme environments.