Drawing from experience in the HEV/EV industry, electrical steel supplier ArcelorMittal is now helping all customers to minimize electrical machine development time and costs with ever-precise material behavior data and co-engineering support.
ArcelorMittal has been known as a company that goes the extra mile regarding technical support for more than a decade but recent years have seen the electrical steel supplier accompany its customers even longer in the development of new electrical machines. The company is acting increasingly in a consultancy capacity to help customers improve the accuracy of their calculations and modelling and, therefore, reduce the number of prototypes required to optimize the design for its individual application. This can dramatically boost time and cost efficiency in the early stages of development, as well as eliminate any unpleasant surprises later on during manufacturing.

"There are about 10 prototypes needed on average for the development of an electric motor in the automotive industry, for example, so if we can help our customers take out two in the very beginning of the process that is a big gain," says Sigrid Jacobs, portfolio director for electrical steels in ArcelorMittals global R&D function.
With some customers ArcelorMittal embarks on a co-engineering project from the very start. Currently, the company is working on 10 major co-engineering projects within automotive and a further five in the industrial sector. With others ArcelorMittal carries out calculations and modelling on the customers behalf. In every scenario, however, the key to success is in the material data. As well as basic measurement data on the electrical steels magnetic, mechanical and thermal properties, ArcelorMittal now also provides data on the way these properties evolve during the manufacturing process, such as the impact of punching on the laminations and the impact of stresses, later when the stack of laminations is brought into the housing. This type of production data for electrical steel is not easily found on the market.
"We have made big steps in the amount of valuable data available to our customers, especially for magnetic modelling - and we have the growth of the electric vehicle industry to thank," Jacobs says.
Tougher evaluation requirements
ArcelorMittal has traditionally been a supplier for large generators and motors but the growth of the hybrid (HEV) and electrical vehicle (EV) industries has created a sizeable new customer base for the company. Both types of customers require the very low loss electrical steels, at which ArcelorMittal excels, but the evaluation of motors for the HEV and EV industries is much more stringent and requires more data. This is due to the more dynamic operating conditions of HEV/EV motors, as well as greater safety and cost considerations.
"In short, we have had to up our game with regards to technical support and now all customers are benefitting from the information and experience we have gathered while doing detailed work for the automotive sector," she says.
Jacobs will be sharing some of the lessons learnt by ArcelorMittal in a seminar, entitled 'The latest trends in technical assistance to speed up and optimize the development of electrical machines, at the forthcoming CWIEME Berlin exhibition for coil winding, insulation and electrical manufacturing. Her session will take place on Tuesday 10th May at 16:30 in the CWIEME Central theatre and is free of charge for all show visitors to attend.
"Electric motor efficiency has long been a priority for the automotive sector within the context of CO2 reduction but the EUs Ecodesign Directive is placing greater pressure than ever on the wider electrical manufacturing industry to optimize the design of electric motors, generators and transformers - and with our growing database and knowledge base ArcelorMittal is well-positioned to help," she concludes.
CWIEME Berlin
Dates: 10-12th May 2016
Venue: Messe Berlin, South Entrance, Messedamm 22, 14055 Berlin, Germany
Opening times: Tuesday and Wednesday 09:00-18:00, Thursday 09:00-16:00
Admission: An on-site registration fee of €40 will apply for those who have not already registered online.
Featured Product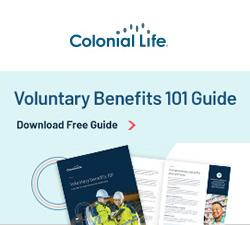 If there was ever a time to add voluntary benefits to your employees' compensation package, this is it. The tight labor market combined with supply chain bottlenecks, continued COVID-19 outbreaks, rising input costs and workforce challenges have helped drive a national trend of record high turnover rates for the manufacturing sector, making it imperative to evaluate compensation and benefits packages to remain competitive. The voluntary benefits 101 guide for manufacturers provides practical information about voluntary benefits without the jargon or complicated details. Download the guide.