Test system acts as spacecraft emulator to test overall system performance
SAKOR Technologies, Inc., a recognized leader in the implementation of instrumentation products for dynamometer testing, announces that it has supplied a test system to Southwest Research Institute® (SwRI®) to be used to test the atmospheric flight control system for the Dream Chaser® spacecraft. Dream Chaser is a lifting-body, reusable, crewed or uncrewed horizontal-landing vehicle. It is owned and operated by Sierra Nevada Corporation (SNC) and is designed as a space utility vehicle for low-Earth orbit.
SwRI, headquartered in San Antonio, Texas, is one of the oldest and largest independent, nonprofit, applied research and development organizations in the United States. Contracted by SNC to design and build the atmospheric flight control system, SwRI selected SAKOR to build a sophisticated system to exercise Dream Chasers new control system and simulate flight from atmospheric interface to landing. The system characterizes overall design performance as well as dynamic response to physical forces typically experienced in standard and extreme flight conditions.
The Dream Chaser spacecraft features seven control surfaces and the SAKOR-designed test system features seven dynamometers, each simulating dynamic loads on a specific control surface.
SAKORs DynoLAB™ data acquisition and control system controls the entire test stand, acting as a space craft emulator. Sending test profiles to the atmospheric flight controller as well as simulating force feedback from each control surface, DynoLAB communicates directly with the atmospheric flight control system via MIL-STD-1553B bus, which is a built-in capability of the DynoLAB system.
"We are extremely proud to have been selected for this project, which is so critical to our nations next-generation space capabilities," said Randal Beattie, president of SAKOR. "We are confident that the system will push the design envelope to ensure the atmospheric control system can handle anything it may have thrown at it."
About SAKOR Technologies, Inc.
SAKOR Technologies, Inc. is a recognized leader in the manufacture and development of reliable and cost-effective automated test instrumentation systems for a wide range of applications. For over 28 years, the company has been providing quality products and superior customer service to a variety of markets including automotive, military, aerospace, marine, heavy equipment, electric motor, performance racing, consumer appliance and more.
For more information, contact us at 517-332-7256, via e-mail at: info@SAKOR.com, or visit SAKORs website at www.sakor.com.
Product or service trademarks mentioned herein are the trademarks of their respective owners.
###
Featured Product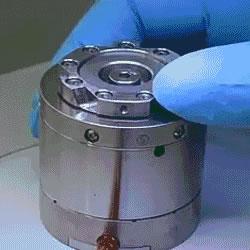 A traditional gantry system employs X-Y or X-Y-Z range of motion. Mounted on a base plate, usually granite, 2 parallel rails constitute the synchronized Y axis motion while the cross axis (bridge axis) provides the X motion. A vertical axis can be added on the bridge for the Z motion. A Split Bridge system can be less complex than a traditional gantry system because synchronization of the two parallel linear motors is not required. Both systems are used in industrial production, testing, and additive manufacturing.