Highly complex and individualized production and components with completely new forms and functionalities to be showcased; Additive-generative manufacturing holds enormous potential for industrial production
From April 25 - 29, 2016, entrepreneurs and researchers are representing Dresden - Europe's leading center for 3D printing - at the Hanover Trade Fair 2016, showcasing novel solutions in additive-generative manufacturing.

"Dresden is Europe's most important location for microelectronics, which is known world-wide," Raoul Schmidt-Lamontain, Mayor and Councilor for Urban Development, Building and Transport of Dresden says. "Dresden also leads Europe in the materials sector and additive-generative production. The Hanover Trade Fair 2016 is an important industry fair and the ideal forum for Dresden researchers and entrepreneurs to display their outstanding expertise and introduce novel 3D printing technologies."
3D Printing opens new Possibilities for Industrial Production
The industry has immense expectations for additive-generative production. Based on three-dimensional models, 3D printing makes it possible to create layer-by-layer objects using laser and electron beams. In this way, complex geometries can be produced efficiently when it comes to cost, time, and resources. According to the study "Additive Manufacturing - Next Generation" conducted by the corporate consulting firm Roland Berger, the market for additive-generative manufacturing has, since 2004, grown 20 percent per year, on average. In the process, 3D printing technology has already reached maturity in the following fields of application: medical products, aerospace, and turbine construction.
Read full press release: http://datas.weichertmehner.com/hm2016eng.pdf
Featured Product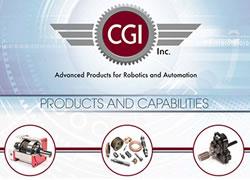 From Prototype to Production CGI Motion enables design excellence across a wide range of industrial applications. We thrive on customer driven innovation in precision gearbox, precision machined components and electro-mechanical assembly solutions ranging from aerospace systems to semiconductor applications. We are your design and manufacturing partner helping to differentiate your product, machine or innovation. Our team of problem solving engineers and product managers can bring your application to market on time and under budget. Whether it's an improvement on a current design or groundbreaking new designs, CGI has the know-how and team to enable design excellence. Connect with us today to explore what CGI Motion can do for you.