There's a 46% increase in enrollment with the electrical engineering courses for kids and teens at iD Tech, the leading K-12 summer educational STEM program, mirroring the popularity of the Internet of Things.
Riding the popularity of the Internet of Things (IoT), iD Tech, the leading summer educational STEM (science, technology, engineering, and math) program, sees a 46% increase in enrollment in its electrical engineering courses for kids and teens.

Internet of Things (IoT) is a term that is becoming increasingly well known as more items collect and transmit data over the Internet. For example the wearable devices market grew 223% in 2015, according to best-selling author, Bernard Marr. There were 3.6 million Apple watches sold and 4.4 million Fitbits shipped. With this fast growing industry, an estimated $10-$15 trillion dollars will be added to the GDP over the next 2 decades. This equates to many opportunities.
This Internet of Things trend is reflected in the increased enrollment of the five iD Tech electrical engineering courses. iD Tech students learn how to design electrical engineering products using Arduino, an open-source circuit board provided by their partner, SparkFun. The Arduino is a programmable circuit board that takes input from sensors and controls motors, lights, and other devices.
"Through our summer STEM programs, we ignite a childs future, inspiring the next generation of technology visionaries," said Pete Ingram-Cauchi, CEO, iD Tech, "We are pleased to partner with SparkFun, combining their innovative engineering products with our engaging curriculum."
"As the demand for STEM professionals increases, STEM education is a critical component in preparing young people for entry into an evolving workforce," said Nathan Seidle, founder and CEO of SparkFun. "Working with iD Tech, electronics can get kids excited about the endless possibilities of electrical engineering, which is so important in todays technologically focused world."
In addition to electrical engineering courses, iD Tech students ages 6-18 learn programming, build robots, design video games, and create hands-on tech projects. These summer programs provide a fun learning environment where students express their creativity through technology. They see firsthand how an interest can turn into a college degree and compelling career. This experience inspires them to keep learning, giving them a competitive advantage for school, college, and life. Programs are held at over 150 prestigious campuses nationwide, including Stanford, Harvard, Caltech, and other locations.
Who knows, perhaps a future IoT breakthrough will come from an iD Tech student.
To learn more, visit http://www.iDTech.com.
Download Assets here: https://drive.google.com/drive/folders/0B11e9sFqcAN4TzRxLTlySjVhOVk
# # #
About iD Tech (http://www.iDTech.com)
iD Tech is the leader in summer STEM education programs for students ages 6-18, with over 235,000 students who have attended iD Tech since 1999. Students solve engineering challenges, learn programming, code apps, build robots, design video games, and more. Programs are held at over 130 prestigious campuses nationwide, including the University of Washington, Stanford, Rice, Caltech, Yale, Princeton, and many others. In addition to Alexa Café, there are 4 other iD Tech summer STEM programs held nationwide: iD Tech Camps (weeklong, all-girls, ages 7-17), iD Tech Mini (weeklong, co-ed, half-day options, ages 6-9) as well as teen academies iD Programming Academy and iD Game Design & Development Academy (2-week, pre-college, co-ed, ages 13-18).
About SparkFun Electronics (http://www.SparkFun.com)
SparkFun Electronics understands that connecting learners with the spirit of innovation will lead to a generation of thinkers, innovators who can shape the world with powerful ideas and solutions and solve real-world problems with technology. Electronics is more than a hobby, but a creative medium for advancing teaching and learning. SparkFun is a firm believer in the ideology of open source technology which encourages innovation and creativity, while helping empower individuals to build the projects they want.
Featured Product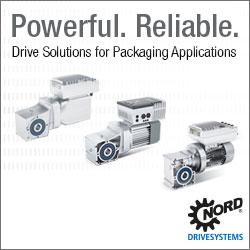 NORD's redesigned line of small CLINCHER parallel gear units showcase increased power and torque capacity for a variety of applications. These re-engineered versions will be replacing the existing SK0182NB, 0282NB, and 1382NB units. They are lightweight, have improved heat dissipation, are more cost-effective, and are available with NORD nsd tupHTM sealed surface conversion for wash-down and extreme environments.