Vanrx is exhibiting in booth 3904 at the Javits Convention Center from April 26-28, 2016.
NEW YORK, April 19, 2016 /PRNewswire/ - Vanrx Pharmasystems is announcing that it will showcase new advancements in aseptic filling robotics and machine vision at Interphex 2016.

Vanrx is exhibiting in booth 3904 at the Javits Convention Center from April 26-28, 2016.
Robotics and machine vision are among the core technologies in the SA25 Aseptic Workcell, the gloveless isolator for automated filling of injectable or lyophilized therapies. The SA25 fills syringes, vials and cartridges. Carlos Diaz, Vanrx's machine vision leader, will be providing demonstrations of the SA25's vision system, which guides robotic actions, and supports the SA25's process control.
"Vanrx comes to Interphex with growing acceptance of its SA25 Aseptic Workcell, which helps the industry modernize fill-finish operations for next-generation therapies. By visiting our stand, you will see the most technologically advanced solutions available," says Chris Procyshyn, CEO, Vanrx Pharmasystems.
Pharmaceutical companies can bring their products to market faster using the SA25. It is well-suited for the targeted, smaller volume therapies that form an increasing portion of pharmaceutical companies' revenues and development pipelines. With rapid changeover between formats and the use of nested, pre-sterilized containers, Vanrx's offering enables greater uptime and production agility.
To support industry education, Vanrx's management team will be delivering three educational sessions:
"Revolutionizing the Production of Injectable Medicines: A Simple Solution for a Complex Process"
Presented by: Chris Procyshyn, CEO
Location: Technical conference stage 2 (Booth 1277) in the Exhibit Hall
Time: Wednesday, April 27 from 1:15-2:00 p.m.
"Addressing Sterile Manufacturing Challenges"
Chris Procyshyn, CEO will co-present with Matrix Alliance partners Daikyo Seiko and Schott as part of the Keynote Series, jointly presented by the Parenteral Drug Association (PDA) and Pharmaceutical Technology.
Location: Javits Conventions Center, Interphex Innovation Stage
Time: Wednesday, April 27 from 3:30-5:00 p.m.
"Taking a Page from Semiconductors - How Other Industries' Technology Can Inspire Improvement of Pharmaceutical Manufacturing Today"
Presented by: Greg Speakman, VP, Sales & Marketing
Location: Technical conference stage 3 (Booth 1377) in the Exhibit Hall
Time: Wednesday, April 27 from 4:15-5:00 p.m.
Manufacturers and trade media are invited to visit Vanrx's booth for an update on the Matrix Alliance. The Alliance is a recently announced collaboration between pharmaceutical packaging leaders for testing, compatibility and industry education for nested container and closure systems. Alliance member companies will be available for product availability questions or media interviews.
About Vanrx Pharmasystems:
Vanrx Pharmasystems makes the most technologically advanced sterile filling solutions for the pharmaceutical industry. Vanrx fill-finish machines use isolated robotics and machine vision to automate the packaging of injectable drugs into nested vials, syringes or cartridges. The company was founded by pharmaceutical industry veterans to create the systems needed to make the next generation of innovative therapies. For more information, visit www.vanrx.com.
Featured Product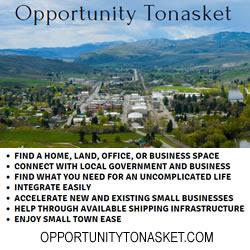 Our primary mission is to promote economic development and growth in the city of Tonasket, WA and surrounding area. This is a group of local citizens sharing a common goal. We wish to assist and promote existing businesses wishing to relocate, local businesses wishing to expand and local individuals wanting to startup a business. Preserving and enhancing the small town and rural lifestyle in a way which benefits everybody and maintains a healthy lifestyle. Opportunity Tonasket was created to be a hub for information and contacts with local city and county agencies, as well as local businesses and real estate connections. Their goal is to connect current and newly relocated individuals and businesses and "plug them in" with the best services, advice and experts in the area. Opportunity Tonasket is like a leg-up, as if one's already had a foothold in the community.