New CVN 63-90ECL is hermetically sealed for field-deployed range finder apps
Edison, NJ - April 19, 2016 - OSI Laser Diode, Inc. (LDI), an OSI Systems Company, introduces the CVN 63-90ECL, a 905 nm pulsed laser diode with an integrated micro lens. The new device offers a far-field beam pattern with equivalent divergence values (8 x 8 degrees FWHM) for both the Fast (perpendicular) and the Slow (parallel) axes of emission. The adjusted far-field pattern offers higher coupling efficiency into standard spherical lens systems, making the diode ideal for critical defense applications.

Hermetically sealed in a robust 9 mm package for survivability in harsh environmental conditions, the pulsed laser diode is well suited for demanding military tasks such as field-deployed range finders. The RoHS-compliant device operates from 895 nm (min.) to 915 nm (max.), with typical wavelength operation at 905 nm. Peak power is 75 W (min.), pulse width is 100 nanoseconds (typ.) and the drive current is typically 30 A. Storage temperatures range from -40° C to +85° C; the typical operating temperature is 25 °C.
OSI Laser Diodes new CVN 63-90ECL joins the previously announced CVLL 350-CL90 pulsed laser diode with integrated micro lens that operates at 1550 nm. To learn more about these and other advanced optoelectronic products, please visit: 905 nm Pulsed Laser Diode with Integrated Micro Lens.
OSI Laser Diode, Inc. (LDI - www.laserdiode.com), founded in 1967, is a global leader in laser diode technology, providing advanced optoelectronic products that serve the military/aerospace, telecom/datacom (short and long haul), commercial, industrial, and medical markets.
Featured Product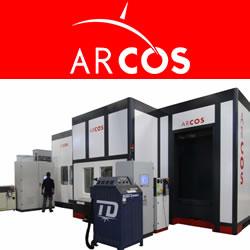 Robotized system for grinding and cutting with discs and the precision cutting with plasma technology of aeronautic parts. This Robotized system is produced for the finishing of aeronautic parts. This machine utilizes the grinding and cutting with a Ø1000mm disc. It is also allowing the precision cutting with plasma technology. Approved 3M Robotics System Integrator.