Design flexibility for low-power signal applications in communications, industrial, automotive, medical and consumer electronics
April 14, 2016 - CHICAGO - Newark element14 has expanded its range of Molex SL™ (Stackable Linear) Modular Connectors, comprising the largest number of variations and cabling configurations, to now include CPA and TPA locking options. The range is suited for low-power and signal Wire-to-Board and Wire-to-Wire applications for communications, industrial, medical, consumer electronics and automotive industries.

Molex has strengthened their offering with a range of crimp housings to the SL™ Wire-to-Wire Modular Connector System, with benefits that include additional terminal position assurance (TPA) and connector position assurance (CPA) locking features, providing design flexibility for applications used in high-vibration environments.
The new range of Molex SL™ (Stackable Linear) Modular Connectors are available from Newark element14 in North America, Farnell element14 in Europe and element14 in APAC.
Newark element14 offers engineers (both design and maintenance), as well as purchasing professionals, a comprehensive range of over 36,000 connector products, in stock and ready to ship today. The range includes PCB, Industrial, D-sub, I/O, RF/Coaxial and Audio/Video connectors from industry-leading manufacturers. Please visit http://www.newark.com/connectors today for additional information.
About the Premier Farnell Group
Premier Farnell plc (LSE:pfl) is a global leader in high service distribution of technology products and solutions for electronic system design, production, maintenance and repair. Trading as Farnell element14 in Europe, Newark element14 in North America and element14 across Asia Pacific, it had sales last year of £982.7m, the Group is supported by a global supply chain of more than 3,000 suppliers and an inventory profile developed to anticipate and meet its customers' needs.
Premier Farnell works to bring to market development kits in a variety of applications, enabling it to support the customer from design concept through to production.
The latest products, software, services and solutions from trusted supplier partners are all available through 43 local language transactional websites. The element14 Community allows buyers and engineers to access a wide range of independent technical information, tools and the latest resources and the Design Center enables design engineers to compare kits from the world's greatest range of development tools.
Featured Product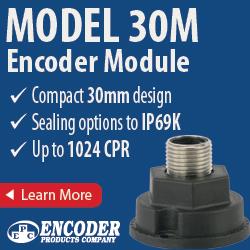 The Model 30MT is a compact magnetic encoder module designed for the most extreme environments. It offers sealing up to IP69K, an operating temperature range of -40° to 120° C, and a shock and vibration rating that conforms to Mil-STD-202G. With a large air gap and tolerance to misalignment, up to 1024 CPR (4096 PPR with Quadrature Counting), and easy alignment and installation, the Model 30M or is an excellent solution where you need motion feedback in your robotics application.