Session focuses on ERP innovation in the modern factory
SAN FRANCISCO--(BUSINESS WIRE)--AppDynamics, a leading application intelligence company helping power enterprise digital transformation, today announced that Vice President of Market Development and Insights, Jonah Kowall, will speak on "Efficiency in the Connected Factory" at Remote Magazines Internet of Things North America on Wednesday, April 13 at the Renaissance Schaumburg Convention Center and Hotel in Schaumburg, Illinois.

"Legacy applications are an increasingly brittle burden on manufacturing companies, who are rethinking their software strategies to better connect the customer and digital commerce with the manufacturing process."
Tweet this
"In todays connected factories, the large array of complex ERP and manufacturing execution systems (MES) are becoming increasingly interconnected and consist of several vendors, creating challenges for those managing modern factories," said Kowall. "Legacy applications are an increasingly brittle burden on manufacturing companies, who are rethinking their software strategies to better connect the customer and digital commerce with the manufacturing process."
Details of Kowalls presentation:
Who: Jonah Kowall is the vice president of market development and insights for AppDynamics, helping drive the companys product roadmap and vision, while developing entry points into new markets, and providing technology and business insights to fuel the accelerating, broad-based demand for the companys Application Intelligence Platform. Kowall joined AppDynamics in 2014, a 15 year veteran IT practitioner at startups and large enterprises, focused on infrastructure and operations, security, and performance engineering. Most recently as Research Vice President at Gartner, he focused on availability and performance monitoring and IT operations management (ITOM). He also led Gartners Magic Quadrants for application performance monitoring (APM) and networking performance monitoring and diagnostics.
What: A discussion on how advanced companies are driving digital business initiatives by adapting ERP and MES systems to suit their business models.
When: Wednesday, April 13, 2016, 11:30 a.m. - 12 p.m. CDT
Where: Renaissance Schaumburg Convention Center and Hotel, 1551 North Thoreau Drive, Schaumburg, Illinois 60173
For event details, visit here.
For a Briefing: To schedule a briefing with Jonah Kowall, please contact 10foldpr@appdynamics.com.
About AppDynamics
AppDynamics is the application intelligence company that provides enterprises with the next generation of APM software to monitor, manage, analyze, and optimize customer experiences and the most complex software environments behind them. Built to be an essential pillar powering digital transformation, the AppDynamics Application Intelligence Platform delivers a real-time, end-to-end view of application performance from end-user to data center, as well as rich analytical insights into customer behavior and the correlations between application and business performance, to help companies ensure ideal customer experience and increase operational agility and effectiveness. Many of the worlds largest and most iconic brands choose AppDynamics to accelerate their digital transformation and improve their customer experience, including Citrix, Concur, DIRECTV, eHarmony, Kraft, MTV Networks, NASDAQ, Pearson, Progressive Insurance, and Sephora. For more information visit appdynamics.com.
Featured Product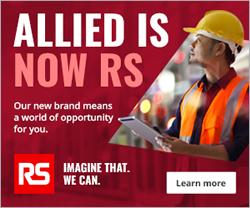 Based off the design pioneered by Anderson in 1953, the two pole SB® connectors set the standard for DC power distribution and battery connections. SB connectors feature a rugged one-piece plastic housing using stainless steel springs to retain the contacts and create the "contact force" that provides extremely low resistance enabling greater electrical efficiency. The SB connectors are also genderless (flip one 180 degrees and they will mate to each other) reducing the customer's bill of materials and providing greater economies of scale when purchasing. The SB series of connectors range in size from SB50 to the SB350. Each family size offers color-coded, mechanically keyed housings designed to prevent both visually and physically cross-mating devices with different voltages. All the connectors are UL rated to 600 volts, so the keys and colors are just identifiers to prevent accidents. Contacts are traditionally Silver plated to minimize electrical resistance while offering supreme durability and reliability.