Festo engineered the new mobile app with unbeatable features and ease of use for accessing product information and securing FAST delivery.
The new Festo Mobile App delivers quick and easy access to the Festo FAST™ Catalog of industrial automation components that are available for shipping on either the same day an order is placed, in three days, or in five days. This app, available for download from Google Play or the App Store, gives the user the ability to quickly navigate through thousands of products in the FAST™ Catalog and to access valuable technical specifications, pricing, and delivery options.

The FAST™ Program gives designers, OEMs, field service personnel, maintenance personnel, designers, plant engineers, and others anywhere/anytime access to information on products, availability, and shipping times, enhancing efficiency, productivity, and uptime. The FAST™ Program helps lower inventory costs through just-in-time delivery. It reduces time-to-market for prototype and production equipment.
The selection of FAST™ industrial automation components available for same day shipment include: Pneumatic cylinders and actuators, pneumatic valves, servo motors and servo drives, air preparation units, fittings, tubing, and sensors. Components available for three-day shipping include: Custom length cylinders and actuators, combination air preparation units, and valve manifolds. Five-day products include electromechanical actuators. If a shipment arrives later than specified, Festo reimburses the shipping charges.
The Festo FAST app provides shipment tracking, order status, and order history information. While navigating through the Festo FAST™ Catalog on the mobile app, users can create a wish list of products. From the wish list an email with links to selected products and an online shopping basket is generated. Email communication is another productivity enhancer. For example, maintenance personnel can instantly forward product replacement information to the purchasing department for streamlined ordering.
A video on the new app is available online. Visit Google Play or the App Store to download the Festo FAST mobile app today. For more information on all of the products and solutions available from Festo, call Festo at 800-993-3786 and visit http://www.festo.us.
###
About Festo
Festo is a leading manufacturer of pneumatic and electromechanical systems, components, and controls for process and industrial automation. For more than 40 years, Festo Corporation has continuously elevated the state of manufacturing with innovations and optimized motion control solutions that deliver higher performing, more profitable automated manufacturing and processing equipment.
Featured Product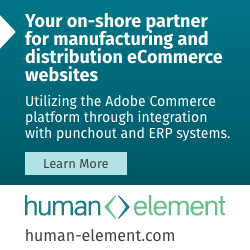 With Human Element, you will build a strategic partnership with experienced on-shore strategists and developers who understand the pain points unique to manufacturers and distributors. Using Agile methodologies and proven eCommerce website development strategies, our team positions clients for success.