On The Road to Hannover Messe highlights importance of Americas role as partner country at worlds largest and most important trade show for industrial technology Remarks from German Ambassador to the United States Peter Wittig, Deputy Commerce Secretary Bruce Andrews, and Siemens AG Managing Board Member and CTO Siegfried Russwurm Expert panel features participants from National Association of Manufacturers, Google, Local Motors, and Infineon Technologies North America
WASHINGTON--(BUSINESS WIRE)--With the United States serving as the partner country for Hannover Messe 2016, the German Embassy, in cooperation with Siemens, hosted a special event today focused on the fairs importance as the U.S. and Germany deepen and broaden cooperation in shaping the new age of industry - combining Germanys engineering prowess with Americas leadership in software.

This month, President Barack Obama will join German Chancellor Angela Merkel to open Hannover Messe 2016 (April 25 - 29), marking the first time a sitting U.S. president has participated in the fair. Led by the Commerce Department, approximately 300 companies from the worlds largest economy will present their solutions for networked industry at the Hannover Exhibition Center and meet potential business partners from all over the world.
"We are delighted that President Obama has decided to join Chancellor Merkel for the opening ceremony of the Hannover Messe. We look forward to hosting the strongest delegation of American manufacturers and industrial technology innovators in the history of the Hannover Messe," said Peter Wittig, German Ambassador to the United States. "In todays world of manufacturing, both our countries have a lot to bring to the table. Traditionally, Germanys strengths lie in the field of engineering and, here in the U.S., companies produce cutting-edge software. When these two forces are combined, they pave the way for what is called the 'factory of the future."
"The United States and Germany are critical partners in virtually every major global challenge we face today, from geopolitical and security issues to our robust, economic, commercial and investment relationship," said U.S. Deputy Secretary of Commerce Bruce Andrews. "The 2016 Hannover Messe will only strengthen the relationship between our two countries. Partner Country Status provides U.S. companies a unique opportunity to showcase American innovation to a global audience, and forge business relationships with German companies that will support more Trans-Atlantic trade. "
"German industry is looking forward to having the United States as our Hanover Fair partner this year. In particular, it will be a great honor and privilege to have President Obama join Chancellor Merkel to officially open the event," said Professor Russwurm, Member of the Managing Board and Chief Technology Officer, Siemens AG. "As in past years, the Hanover Fair will offer an ideal opportunity to showcase a fascinating spectrum of industrial developments. And at the same time, give the world a glimpse of the progress being made in shaping an entirely new industrial world."
Todays event included a panel discussion focused on the integration of cutting-edge software and tried and tested engineering. Expert panelists included Jay Timmons, President and CEO, National Association of Manufacturers (NAM); Ross LaJeunesse, Global Head of International Relations, Google; Justin Fishkin, Chief Strategy Officer, Local Motors; and Joerg Borchert, VP Chip Card & Security ICs, Infineon Technologies North America Corp.
"Manufacturing in the United States is leading an innovation revolution—a revolution that will win us jobs and raise standards of living," said Jay Timmons, President and CEO of NAM. "That revolution will be on display at the Hannover Messe, where the world will see exactly how manufacturers in the U.S. are harnessing the power of digital technology to transform both the products we make and how we make them."
"As we continue to shape the future of manufacturing, the U.S. and Germany have much to learn from each other. Americas participation as partner country at Hannover Messe in Germany presents an outstanding opportunity for leaders in industry and software to advance efforts to share capabilities, boost trade and create jobs in the future," said Eric Spiegel, President and CEO, Siemens USA.
For further information on U.S. manufacturing and Hannover Messe 2016, visit: http://siemensusa.synapticdigital.com/HannoverMesse2016
Follow us on Twitter at: www.twitter.com/siemensusa
To receive expert insights, sign up for Siemens' U.S. Executive Pulse leadership blog
Siemens Corporation is a U.S. subsidiary of Siemens AG, a global powerhouse focusing on the areas of electrification, automation and digitalization. One of the worlds largest producers of energy-efficient, resource-saving technologies, Siemens is a leading supplier of systems for power generation and transmission as well as medical diagnosis. With approximately 348,000 employees in more than 190 countries, Siemens reported worldwide revenue of $86.2 billion in fiscal 2015. Siemens in the USA reported revenue of $22.4 billion, including $5.5 billion in exports, and employs approximately 50,000 people throughout all 50 states and Puerto Rico.
Featured Product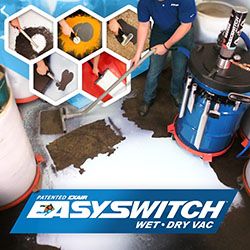 Static electricity can cause problems. • Materials tear, jam or curl • Webs and films cling to themselves • Electronic sensors fail, making false readings • Hazardous sparks or shocks • Product clings to itself, rollers, machine beds • Dust attraction ruins surface finishes EXAIR manufactures a complete line of Gen4™ static eliminators to remedy common static problems. Many use our engineered airflow products to minimize air use and noise while delivering maximum results by moving more static eliminating ions to the product surface. The Gen4 Ion Air Cannon™ neutralizes static electricity and cleans at distances up to 15 feet (4.6m) with no moving parts. It is ideal for those hard to reach spaces or confined areas that require a concentrated flow of static eliminating ions. With an optional pressure regulator, the air volume and velocity are infinitely adjustable over a wide range, for light to heavy duty applications. http://www.exair.com/184/sepromo.htm