Missing Pieces of T. rex Found in Montana are being 3D Printed to Complete Skeleton for Museum Display in the Netherlands
(AMSTERDAM) - Ultimaker, the leading open source 3D printer manufacturer, is supporting the Naturalis Biodiversity Center, a national natural history museum and research center, to add missing bones to the skeleton of a Tyrannosaurus rex dinosaur found in Montana. Naturalis explores biodiversity for human wellbeing and the future of the planet. In September 2016 the real T. rex skeleton will be on display in the museum. A few missing parts are printed by the Ultimaker 3D printer.

The 13 meter long adult T. rex female was found in 2013 in Montana. While about half of the bones found are extremely well preserved and intact, the skeletal feet, left leg and arms bones are missing.
The T. rex fossil is now being prepared for its arrival to the museum. Recreating the missing bones with an Ultimaker 3D printer is an essential part of this preparation. Before Ultimaker's 3D printing technology, this process was previously done by molding missing parts out of styrofoam which was a very time consuming, difficult process. To create more accurate models of the missing bones, Naturalis has scanned the existing bones and is using an Ultimaker 3D printer to print 3D models of the bones.
"We are very excited that Naturalis Biodiversity Center is using an Ultimaker for this project," says Siert Wijnia, CTO and founder of Ultimaker. "Ultimaker 3D printers offer an easy and accurate way to create seamless replicas of the bones, helping to visualize the missing bones of the T. rex."
Due to Ultimaker's high quality of print results, Naturalis will be able to use the 3D printed bone models next to the authentic bones to create a complete T. rex fossil. The artificial 3D printed bones will be painted a slightly different color than the authentic bones so museum visitors can see the difference. Once the skeleton is complete, Naturalis will be able to share the full story of the specimen in the museum's dinosaur exhibition including the T. rex's age, geological setting and paleopathology.
Once the skeleton has taken center stage at Naturalis, Ultimaker will host a how-to-print guide for some of the bones and share the actual STL files used by the museum so 3D printing enthusiasts can print the exact T. rex replica bones themselves.
To learn more about Ultimaker and the Naturalis Biodiversity Center's upcoming T. rex exhibit, visit: https://ultimaker.com/en/blog/20312-3d-printing-a-tyrannosaurus-rex-skeleton.
ABOUT ULTIMAKER
From the very beginning Ultimaker's vision has been to make 3D printing accessible to all. It is why all their desktop printers are extremely quiet, fast, accurate, reliable and effortless to use. Such a commitment has been embraced by professionals and novices alike. This has also helped Ultimaker to become one of the most successful and reliable open source 3D printing companies in the world. Most recently, Ultimaker was awarded "Best in Shootout" 2015 from the established Make Magazine, Editors' Choice by Digital Trends and Best Consumer Product at the 3D Printshow Global Awards 2014. To learn more about Ultimaker, visit: https://ultimaker.com/.
Featured Product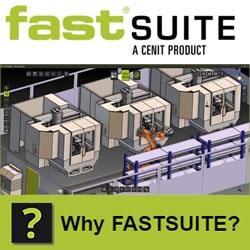 With two product lines, FASTSUITE for V5, which is seamlessly integrated with CATIA/DELMIA V5, and FASTSUITE Edition 2, a standalone platform, the areas of OLP (offline programming), manufacturing simulation and virtual commissioning are the core of our business activities. Our applications and solutions are not only focused on real customer needs, but they are also designed to improve efficiency and quality of our customers' manufacturing processes. No matter if the process is just about offline programming of a single robot at a small job-shop company or about the validation of a complete production line at an Automotive or Aerospace OEM. We strive to ensure a constant quality of our services and to provide the best possible support to our worldwide customers. Therefore we have established three digital manufacturing hubs around the world. All our teams have a proven expertise on manufacturing process integration and profound IT implementation skills.