Patented approach to cutting and scoring glass on a molecular level increases the material's edge impact strength by up to 5x.
Lake Mary, FL, March 21, 2016 (Newswire.com) - Fonon Corporation (OTC: FNON) today announced improvements to Zero Width Laser Cutting Technology, a non-contact method for cutting glass and other non-metallic, brittle materials on the molecular level. The advancements have direct applications in the semiconductor, flat panel, solar, and medical glass industries.

Traditional approaches to cutting glass, including mechanical scribe and break, grinding, and sawing with physical cutting tools have been mainstays of glass processing for centuries. Conventional saw-and-blade methods such as these unavoidably result in micro-cracks, weakened surfaces, and glass edges that are highly prone to cracking. These issues are compounded by the recent explosion of new types of chemically-strengthened glass, such as Gorilla Glass, which is found in nearly two billion smart phones and tablet computers. As glass strength increases, traditional cutting methods become more expensive and less effective, introducing cracks, splinters, and more wasted material.
Zero Width Laser Cutting Technology uses a non-contact laser to create internal tensile forces greater then inter-molecular connections in glass or other brittle materials, effectively separating the material cleanly, without the debris, loss, and quality problems associated with traditional glass processing. Waste material is largely eliminated, and the approach works with all types of glass.
Recent refinements by Fonon allow products which incorporate Zero Width Laser Cutting Technology to achieve much deeper penetration of a precisely controlled micro-crack. The process creates high-speed scribe lines (up to 1 meter per second, depending on the material type and thickness) in a prearranged manner, with no molecules leaving the surface, dramatically improving the substrate separation process.
Edge impact strength increases when glass is cut by this process; the result is up to five times stronger than material cut by mechanical scribe and break methods.
"Both manufacturers and consumers benefit immediately," said Ben English, Chief Marketing Officer of Fonon Corporation. "Zero Width Laser Cutting Technology provides higher material strength for all types of glass, and less possibility of damage either at the factory or in the customer's hand."
Cutting systems incorporating Fonon's latest Zero Width Cutting Laser Technology are available immediately, in standalone systems, for the flat panel display, medical device, and precision optics industries.
For more information, see the Fonon blog entry, "What is Zero Width Laser Cutting Technology?" by following this link, or contact Fonon for more details.
About Fonon Corporation
Fonon designs laser-based material processing technologies for advanced industrial manufacturing and manufactures state of the art equipment utilizing those technologies. The company products empower manufacturers in the areas of application-specific 3D metal printing (additive manufacturing), and 2D and 3D laser cutting, marking and engraving applications (subtractive manufacturing). Our products and technologies are used today in every sector of any manufacturing industry from food and beverage to medical, aerospace and semiconductor. For more information, visit www.fonon.us.
Featured Product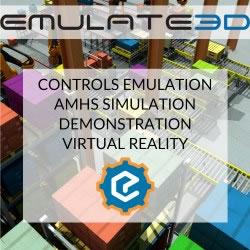 Emulate3D software helps you model and test your AMHS solutions rapidly. Use Demo3D to create running models quickly, then generate videos, stills, or view the models in virtual reality at the click of a button. Sim3D enables you to carry out experimental test runs to select optimal solutions and the most robust operating strategy, and Emulate3D Controls Testing is the best way to debug your PLCs offline, and off the project's critical path. Connect to major PLCs, import CAD, and plug into HTC Vive and Oculus Rift to produce awesome models!