Two-day immersive technical training course focused on re-using 3D CAD models from design to manufacture
Jennifer Herron, principal of Action Engineering, will lead a two-day immersive technical training course April 26-27, 2016 pertinent to the digital enterprises of mechanical and systems engineers in the Aerospace, Defense, Automotive, Medical, and other Product Development industries.

Workshop: Enabling Your Digital Enterprise
Online Registration: Here
This workshop will be a face-to-face, interactive education in re-using 3D CAD models from design to manufacture. The workshop will be hosted by CADENAS PARTsolutions in the great Los Angeles metro area.
Attendees will learn what, why, and how Model-Based Definition (MBD) and Model-Based Engineering (MBE) will optimize your business processes and enable your digital enterprise. Our style is to educate you fast and simply while explaining model-based philosophy, commercial and government standards that address model-based issues, and cover available technology with the goal of normalizing MBE/MBD expectations for all your organizations stakeholders. Day 1 focuses on business processes, rather than a particular CAD technology. Day 2 exposes all the necessary pieces of the digital enterprise puzzle and presents capabilities and maturity your organization needs to achieve MBE.
Topics (half-day each):
MBE Overview
Intro to MBD and 3D CAD models
MBE Implementation Techniques
Digital Enterprise Business Planning Guidance (Half-Day)
Workshop Dates:
April 26-27, 2016
Workshop Location: Los Angeles, CA metro area:
Rolling Hills Estates - Twin Towers
609 Deep Valley Drive
Suite 200
Rolling Hills Estates, CA
90274
Online Registration: Here
Workshop Cost: $995/person - Book and lunch included.
Discounts Available: Contact us for single company/multiple attendee discounts.
About the Instructor:
Jennifer Herron, MSCE & BSME, is the CEO of Action Engineering, a registered Women-Owned Small Business. Ms. Herron regularly gives public seminars and consults on model-based topics and leads in-house MBD and MBE education seminars. She serves on the American Society of Mechanical Engineers (ASME) as chair of the ASME Y14.46 Product Definition for Additive Manufacturing, and is a committee member of ASME Y14.47 Model Organization Schema Practices and ASME Y14.37 Digital Product Definition for Composites. She is an expert in multiple CAD packages, such as Creo, NX, and SOLIDWORKS. In addition to her design of many flight satellite systems, Ms. Herron has designed military robot platforms, and has a patent for a snake propulsion mechanism. She is the author of "Re-Use Your CAD: The Model-Based CAD Handbook," published in 2013.
About Action Engineering:
Action Engineering provides services that enable manufacturing OEMs and suppliers to improve their products, maximize engineering time, and improve product quality through the use of Model-Based Definition (MBD) within a Model-Based Enterprise (MBE) and Digital Enterprise. As process-based experts in the Digital Enterprise, Action Engineering guides organizations on their Digital Enterprise journey.
About CADENAS PARTsolutions:
CADENAS PARTsolutions is a leading provider of next generation 3D part catalog management and sales configuration solutions. For large manufacturers, CADENAS PARTsolutions provides centralized 3D parts libraries making it easy for global design teams to find, reuse, and control standard and proprietary parts. For component manufacturers, CADENAS PARTsolutions provides 3D product catalogs with digital CAD download technology, helping businesses increase sales lead generation and to ensure that components get "designed in" to OEM products. Discover more at http://www.Partsolutions.com.
Featured Product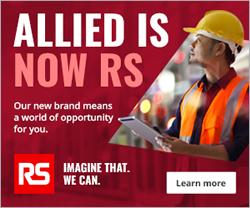 Moxa is a leader in edge connectivity, industrial computing, and network infrastructure solutions for enabling connectivity for the Industrial Internet of Things. With over 30 years of industry experience and 65 million devices connected worldwide, Moxa has a distribution and service network to serve customers in more than 80 countries. Now at Allied-find over 1,000 products from Ethernet switches, protocol converters, routers, and more. Allied Electronics & Automation, part of RS Group & Automation, part of RS Group is an authorized distributor of Moxa.