Delivers on company's pledge of investing in new equipment and driving automation; Facilitates production of Harwin's hi-rel 1.25mm pitch Gecko connector family
SALEM, N.H.--(BUSINESS WIRE)--Harwin, the leading hi-rel connector and SMT board hardware manufacturer, has announced that it has designed and installed its largest ever assembly line, built in partnership with Festo, the leading supplier of automation technology. The line was commissioned to service Harwin's rapidly growing sales of its Gecko 1.25mm pitch high reliability connector family.

By utilising Festo's products throughout the machine design, compatibility issues that sometimes arise when using conflicting hardware were removed. Festo delivered a full range of pneumatics, PLCs, drives, motors and electric axis that allowed Harwin to select the best suited technology in each area of the machine. The new assembly line also includes laser marking and it can automatically assemble the full range of Gecko products up to 50 contacts.
Comments Paul McGuinness, Harwin's Director of Engineering: "It is our company philosophy to invest in the latest equipment and pursue a drive towards automation. As the Gecko range continues to grow with increasing variants and design options we needed this new machine to be able to handle all latched connector variants. This is the most ambitious machine we have ever produced using more I/O than ever before - a total of 450 which is only possible through the combination of the CANopen and Festo systems."
Other features include: CPDX for operation, recipe selection, alarm monitoring, fault diagnosis, function selection; vacuum sensors for accurate position detection; and CMMP control of the EMMS servo motor which uses an absolute encoder to negate need for homing if the machine loses power.
Adds McGuiness: "Festo assisted us from the initial design through to final commissioning. They are excellent to work with - highly experienced, technically very good and very responsive. Their innovative products and expertise have been invaluable in achieving the high levels of automation that we have realised in this new Gecko assembly line."
Featured Product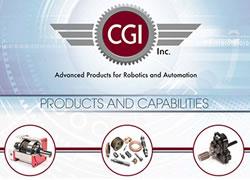 From Prototype to Production CGI Motion enables design excellence across a wide range of industrial applications. We thrive on customer driven innovation in precision gearbox, precision machined components and electro-mechanical assembly solutions ranging from aerospace systems to semiconductor applications. We are your design and manufacturing partner helping to differentiate your product, machine or innovation. Our team of problem solving engineers and product managers can bring your application to market on time and under budget. Whether it's an improvement on a current design or groundbreaking new designs, CGI has the know-how and team to enable design excellence. Connect with us today to explore what CGI Motion can do for you.