LASYS Specialist Press Conference at Audi: Experts provide outlook for 5th LASYS in Stuttgart
Also in the 2016 edition, LASYS will be the trendsetting meeting point for the sector. From the strong, globally active market leader to the innovative newcomer, from 31 May to 2 June 2016, 200 exhibitors will demonstrate the options for use of lasers in material processing at the Stuttgart Trade Fair Centre.

Laser manufacturing systems - including the laser-specific machine subsystems, components, processes and services, will be the main focus. "Visitors will have the opportunity to discuss their daily problems in detail with experienced experts in an optimum atmosphere, and to find new ideas and solutions," explained Gunnar Mey, Manager of the Industry department at Messe Stuttgart, at the press conference at Audi in Neckarsulm
Based on the origin of the guests from over 40 countries, an "International Pavilion" of companies from all over the world will gather, while a joint stand sponsored by the Federal Ministry of Economics and Energy paves the way to the market for innovative newcomers from Germany. Under the title "ESPACE LASER s'invite sur LASYS", for the first time a joint stand with approximately 20 French providers from the laser industry is planned. It will be organised within the framework of the initiative "LASYS meets ...". The Stuttgart trade fair will thus strengthen the theme of laser technology on the global level, cooperating with IREPA Laser, event organiser and supporter of the French Congress with its accompanying trade fair ESPACE LASER.
The accompanying programme of LASYS makes a significant contribution to the essential networking of exhibitors, users and experts. "Together with the Laser and Laser Systems for Material Processing Working Group in the German Engineering Federation (VDMA), which accompanies the trade fair as a professional and conceptual supporter, and other international partners, the exchange of know-how and expertise is offered at congress standard - for all target groups, from newcomers to laser specialists", stated Gunnar Mey. For instance, the VDI Technology Centre is taking part in LASYS. As part of its presentation exhibits from "Make Light" - the Open Photonics Initiative of the Federal Ministry of Education and Research are on show. As part of the "LASER LIVE" campaign, marked stands turn into a stage where live demonstrations of machines are given.
In the "Solution Center - meet the experts", specialists from the Bavarian Laser Centre, the Institut für Strahlwerkzeuge at Stuttgart University, the Fraunhofer Institute for Material and Beam Technology, as well as the Hanover Laser Centre, will answer questions. For example, if you have a task to solve in the area of laser material processing and do not know which process is suitable, which material can be machined and how, or you are unsure if laser is the right tool for the task, you receive answers here. In addition, visitors can bring along their products or material samples to the trade fair and discuss suitable technologies for their manufacturing projects with the experts.
The current topic of "additive manufacturing" is receiving a great deal of attention at LASYS 2016: A Rapid Area is planned in conjunction with Messe Erfurt. With its concentrated format, this joint stand allows visitors to understand solutions for the challenges in material processing in view of ever shorter product life cycles, customised components, increasingly complex geometries and inner structures.
Furthermore, renowned industry representatives support visitors of the forum "Lasers in Action" with their know-how and expertise. The forum takes place directly in the trade fair hall under the leadership of Laser Systems Europe with the involvement of the Laser Institute of America. Each day there is an informative programme of seminars on topics such as microprocessing, additive manufacturing, beam formation and market opportunities in Asia. On 1 June a podium discussion with managers takes a look at the latest trends in laser material processing.
Another guarantee for the constructive exchange of knowledge and know-how: The Stuttgart Laser Technology Forum (SLT) of the Institut für Strahlwerkzeuge of Universität Stuttgart. In combination with LASYS, this event brings together laser experts and users on 31 May and 1 June 2016 at Messe Stuttgart for the 9th time. The event takes place in the ICS (International Congress Center Stuttgart) and is considered a central user forum of the international laser industry. SLT showcases highlights as well as innovations from the industrial application of laser technology. The topics range from key trends to basics through to new possible applications including best practices.
Also in the ICS, on 1 and 2 June the short course "Basics of Laser and Laser Material Processing" by the Scientific Association for Laser Technology provides insights, basic knowledge and an overview of laser material processing. Gunnar Mey summarised: "Whether it is laser welding, cutting, processing, laser system technology or laser beam sources - newcomers are shown everything that is possible using laser."
At a "Beginners' Workshop 4.0 in Toolmaking" organised by the German Association of Tool and Mould Manufacturers, companies can acquire basic knowledge for an Industry 4.0 project on 1 June in the ICS. The seminar provides information on background, history and case studies. The participants discover what Industry 4.0 is all about, take home practical suggestions on how a small or medium-sized company can prepare for the fourth industrial revolution, and find out the first steps they need to take to get involved in Industry 4.0.
Furthermore, on 1 June the Stuttgart Laser Marketplace opens under the management of Optech Consulting: The event in the ICS is dedicated to decision-makers and managers in the areas of marketing, sales and development of the entire laser industry, from component manufacturing to laser and system production through to end users, research institutes and investors. Leading experts present their views of the markets, technologies and application trends in laser material processing.
Additional added value will be produced by the automotive trade fairs of the British organiser UKIP, as well as O&S, the international trade fair for surface treatments and coatings, and parts2clean, the leading international trade fair for industrial parts and surface cleaning. All these events will be staged concurrently with LASYS 2016. A visit to the job market of LASYS is also worthwhile. Via www.jobboadring.de companies who are looking for employees, as well as students, graduates, skilled employees and managers who are looking around for a job, connect.
Gunnar Mey presented LASYS not only as an ideal platform for special fields of application, new applications, as well as industry trends, but also as an active support in day-to-day business. In line with this, Gerhard Hein, Head of the Laser and Laser Systems Working Group and Manager of the Economics and Statistics Division of the Machine Tools and Manufacturing Systems Working Group in the VDMA, explained figures on the market situation. Dr.-Ing. Jan-Philipp Weberpals, Technology Development of Joining, Lightweight Construction, Laser Beam Technology / Sensors at AUDI AG, delivered a presentation on the "Use of laser beam technology at AUDI", whereby the visitors of the press conference also obtained direct insights into the production of the A6 and A7.
Further information at: www.lasys-messe.de
About LASYS
LASYS is an international trade fair clearly focussing on system solutions in laser material processing. The focal points of the trade fair are all established production processes, but also innovative production processes, applications and potential users of lasers in industrial production. As a user platform for the laser industry, LASYS is especially aimed at decision-makers from a wide range of sectors. LASYS 2016 will be held from 31 May to 2 June. Other trade fairs will be held concurrently at the Stuttgart Trade Fair Centre and will produce synergy effects for visitors: the automotive shows with Automotive Testing Expo Europe, Engine Expo, Automotive Interiors Expo, Global Automotive Components and Suppliers Expo, the Autonomous Vehicle Test & Development Symposium, as well as O&S, International Trade Fair for Surface Treatments and Coatings, and parts2clean, Leading International Trade Fair for Industrial Parts and Surface Cleaning.
Featured Product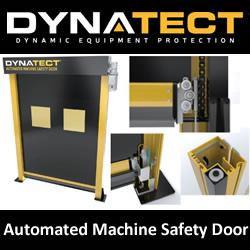 Dynatect's Gortite VF (Vertical Fabric) Automated Machine Safety Door is intended for automation and safe machine access to minimize cycle time and maximize production time. The automated roll-up door separates machines with hazardous operations from other processes, material handling equipment, and people. The Gortite VF Door contains typical machine/process generated hazards including light debris, fluid splatter/mist, and weld smoke/sparks/flash.