US and Canadian Device & System Manufacturers now have access to cutting edge German Technology for Sensing and Input Systems.
Hoffmann + Krippner, Inc. is proud to announce that TES Frontdesign has engaged in a joint venture with Hoffmann + Krippner as their new majority owner.

This enables HK to provide a wider array of sensing & input products and technologies to US and Canada based electronics developers and manufacturers. In addition, this new partnership provides more capabilities, flexibility and production reliability.
According to Jens Kautzor, the CEO of Hoffmann + Krippner, "The individual corporate identities of both companies, the management teams and locations, will remain unaffected. Customer focus, development and manufacturing "Made in Germany" are and continue to be our strength."
The objective of this new cooperation is to improve in terms of "best practice" and to offer an extended product portfolio.
Hoffmann + Krippner now provides:
- Flexible membrane switches or on carrier (aluminum, stainless steel, FR4, plastic)
- Cutting-edge touch screen solutions with optimized evaluation, including customer-specific printed glass surfaces and optical bonding to achieve highest display quality
- Printing on films and glass using hybrid, digital and screen printing techniques
- Capacitive keyboards including industrial display, controller, evaluation software, interfaces
- Electronic assembly including in-house SMD placement
- Enclosure parts and complete aluminum or stainless steel enclosures, stainless steel fronts, produced in-house, polished, powder coated anodized and painted
- Integrated dispensed gasket systems
- Assembly and testing of components and systems
- Printed electronics and assembly of electronic components on film
- Custom foil-based potentiometric sensor systems on foil or FR4
Company Background
The Hoffmann + Krippner Group, with sales offices around the globe, specializes in input and output systems, as well as sensors. Headquartered in Germany, Hoffmann + Krippner has manufactured German-engineered, high quality products for over 40 years. As the North American member of the Group, Hoffmann + Krippner, Inc. delivers these engineering, design and manufacturing services to the US and Canadian market.
As of 2014, Hoffmann + Krippner, Inc. has partnered with Altmann GmbH (manufacturer of high-precision potentiometers), Inelta Sensorsysteme GmbH & Co. KG (manufacturer of LVDT and load cells), and PIL Sensoren GmbH (manufacturer of ultrasonic sensors).
Featured Product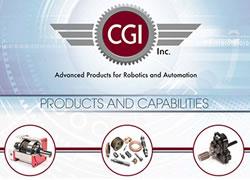 From Prototype to Production CGI Motion enables design excellence across a wide range of industrial applications. We thrive on customer driven innovation in precision gearbox, precision machined components and electro-mechanical assembly solutions ranging from aerospace systems to semiconductor applications. We are your design and manufacturing partner helping to differentiate your product, machine or innovation. Our team of problem solving engineers and product managers can bring your application to market on time and under budget. Whether it's an improvement on a current design or groundbreaking new designs, CGI has the know-how and team to enable design excellence. Connect with us today to explore what CGI Motion can do for you.