Point cloud data from the Orion spacecraft replica 3D scan. FARO Focus 3D X330 Scanner positioned to 3D laser scan the Orion exterior capsule model. Logo on NASA Orion Spacecraft SME logo
ORLANDO, Fla., March 1, 2016 /PRNewswire-USNewswire/ -- SME and its RAPID event worked with Lockheed Martin, FARO Technologies, Inc., Direct Dimensions, Inc., Met-L-Flo, Inc., Florida Institute of Technology and Cincinnati Inc. to take the first-ever 3D scan of the Orion crew module, which will later be 3D printed into small-scale replicas. Today the companies 3D scanned a model of the Orion spacecraft.

NASA's Orion spacecraft is built to take humans farther into space than they've ever gone before. Orion will serve as the exploration vehicle that will carry astronauts to deep space, provide emergency abort capability, sustain and protect the crew, and provide safe re-entry from deep space return velocities. Orion will launch on NASA's new heavy-lift rocket, the Space Launch System.
"Additive manufacturing and 3D printing technologies are widely used to produce aerospace and other high-performance products," said Carl Dekker, president of Met-L-Flo. "It is exciting that we are using 3D scanning and additive manufacturing to reproduce 3D models of the Orion—a spacecraft which may carry these technologies to other planets."
FARO conducted a 3D laser scan of an Orion spacecraft model, while Direct Dimensions will be responsible for the file that is prepared and then 3D printed by Met-L-Flo. Met-L-Flo will print approximately 150 small-scale replicas of the Orion spacecraft to be displayed and used as giveaways at SME's 3D technology event, RAPID. Students from Florida Tech students participated in the scan and discussed how the next generation of manufacturing professionals are being educated on advanced manufacturing technology and applications.
Additionally, Cincinnati Inc. will be using their Big Area Additive Manufacturing (BAAM) technology to print an Orion replica in several large pieces and assemble onsite at RAPID 2016.
To learn more about additive manufacturing and 3D technologies, visit sme.org/additive-manufacturing-glossary.
About RAPID
For more than 25 years, the RAPID Conference & Exposition, produced by SME, has defined the crucial role of additive manufacturing and empowered the establishment of an industry that continues to conceive, test, improve and manufacture new products at a faster, more cost-efficient pace. As the leader and authority figure in additive manufacturing, RAPID attracts buyers, sellers and end-users of design, prototyping, tooling and direct digital technologies to a world-class event for discovery, innovation and networking. For more information, please visit rapid3devent.com.
Featured Product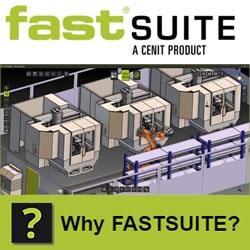 With two product lines, FASTSUITE for V5, which is seamlessly integrated with CATIA/DELMIA V5, and FASTSUITE Edition 2, a standalone platform, the areas of OLP (offline programming), manufacturing simulation and virtual commissioning are the core of our business activities. Our applications and solutions are not only focused on real customer needs, but they are also designed to improve efficiency and quality of our customers' manufacturing processes. No matter if the process is just about offline programming of a single robot at a small job-shop company or about the validation of a complete production line at an Automotive or Aerospace OEM. We strive to ensure a constant quality of our services and to provide the best possible support to our worldwide customers. Therefore we have established three digital manufacturing hubs around the world. All our teams have a proven expertise on manufacturing process integration and profound IT implementation skills.