New LENS Print Engine Processing Head with integrated closed loop control
ALBUQUERQUE, N.M.--(BUSINESS WIRE)--Optomec, a leading global supplier of production grade additive manufacturing systems for 3D Printed Metals and 3D Printed Electronics, announced today that the company will feature its LENS 3D Printers for metal additive manufacturing applications at the Laser Additive Manufacturing (LAM) Conference in Orlando, Fla.,, March 2-3. Jim Cann, LENS Business Development Manager for Optomec, will give a presentation titled "LENS Processing using Glovebox versus Open Atmosphere Systems," in which he will discuss the flexibility in using LENS technology for a variety of metal processing applications. In addition to the presentation, Optomec will feature advancements in LENS Print Engine technology in booth #3.

Optomec metal additive manufacturing solutions are based on its industry proven LENS technology for 3D Printed metals. Under a project sponsored by America Makes, Optomec has packaged LENS technology into a modular Print Engine, which can be integrated with other metal working platforms such as CNC mills, lathes, robots, custom gantries or table system. This approach enables customers to cost-effectively deploy metal additive manufacturing technology to meet application specific requirements. In the booth, Optomec will display version 2.0 of the LENS Print Engine Processing head, which incorporates many advanced features, including water cooling, to support higher power lasers and an integrated sensor for closed loop process control.
Optomec LENS 3D Metal Printers are used to cost-effectively repair, rework and manufacture high-performance metal components in materials such as titanium, stainless steel and super alloys. LENS printers use the energy from a high-power laser to build up structures one layer at a time directly from powdered metals. The resulting fully functional metal structures offer excellent mechanical properties, similar to forged components, for many applications. LENS printers are used throughout the entire product lifecycle for applications ranging from Materials Research to Repair and Rework to Low Volume Manufacturing. For more information on LENS printers, click here.
The 2016 Laser Institute of Americas (LIA's) Laser Additive Manufacturing workshop focuses on 3D printing, cladding, rapid manufacturing, sintering and other revolutionary AM methods, including those being used by doctors and dentists. This annual workshop is the premier conference for the latest advances in the additive manufacturing industry. LIA is the professional society for laser applications and safety. Serving the industrial, medical, research and government communities for over 45 years, LIA offers technical information, training and networking opportunities to laser users from around the globe. For more information on the conference, click here.
About Optomec
Optomec is a privately held, rapidly growing supplier of Additive Manufacturing systems. Optomec patented Aerosol Jet Systems for printed electronics and LENS 3D Printers for metal components are used by industry to reduce product cost and improve performance. Together, these unique printing solutions work with the broadest spectrum of functional materials, ranging from electronic inks to structural metals and even biological matter. Optomec has more than 200 marquee customers around the world, targeting production applications in the electronics, energy, life sciences and aerospace industries. For more information about Optomec, visit optomec.com.
Twitter- https://twitter.com/optomecinc
Featured Product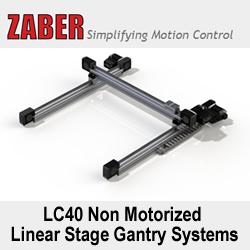 A Zaber gantry kit comes with everything you need to build a customized XY gantry system or XYZ gantry system. These gantry systems feature coordinated multi-axis motion, plug-and-play operation, easy integration with end-effector options, and built-in IO and E-Stop capabilities. An intuitive ASCII interface allows the user to easily communicate with the gantry systems using our free software, either Zaber Motion Library with APIs for several popular languages or Zaber Console. Third party terminal programs that can communicate over a serial port can also be used.