Outstanding service, support, and sales lead the charge
SALT LAKE CITY, March 1, 2016 /PRNewswire/ -- GoEngineer, a leading reseller of SOLIDWORKS 3D CAD software, Stratasys 3D printers,Creaform 3D scanners, CAMWorks, and Oracle's Agile PLM, today announced its continued leadership position selling and supporting best-in-class engineering and manufacturing tools that enable its customers to unlock innovation and deliver better products faster.

"The recognition we have received from our vendors is due to the best employees in the industry who provide the best customer service in the world," says Ken Coburn, GoEngineer president and founder. "The fact that we were number one worldwide in SOLIDWORKS total licenses sold, and in SOLIDWORKS multi-year subscription service, and in Stratasys customer service agreements says volumes about the high-performing nature of our teams. We are glad that our customers continue to have the trust and confidence to invest in GoEngineer solutions."
GoEngineer won 40 awards at SOLIDWORKS World 2016. "Our company is evolving to provide not only a complete product solution set, but also services that help our customers streamline their process," says GoEngineer CEO Brad Hansen. "Taken together, our customers are more efficient, and save more time and money while being technology-enabled to produce the best products in the world." In late 2015 the company merged with Progression Technologies, one of the fastest-growing SOLIDWORKS resellers in the south central U.S. territory. "We only engage in mergers that make sense for our customers," says Hansen. "The Progression team brings not only seasoned sales and technical resources, but also a customer-first culture which dovetails perfectly with GoEngineer."
GoEngineer's digital presence is literally felt around the world with over 26,000 YouTube subscribers who have racked up over 5.1 million views. GoUniversity, Tips and Tricks, and numerous free webinars make the company a go-to resource for its customers. "We have been pushing the digital envelope for several years," says VP of Product Development Ramon Busboom. "Our goal is to produce high quality digital content that lowers the cost, risk, and time required for our customers to implement new design and manufacturing technologies."
Receiving top honors in both commercial and educational SOLIDWORKS sales is rare and also personally meaningful to the company. "It's super cool that we are the leader in so many areas, for so many of our vendors," says VP of Marketing Jennifer Douglas. "But our community involvement truly shows our heart and soul to the world." Educational and community-focused programs include Kids Camps (over 300 attendees in 2015), Boy & Girl Scout tours, robotics clubs, university formula racing teams, and much more. "Giving back to the community matters to GoEngineer," says Douglas. "We are motivated to serve both our customers and the community at large—it's just part of who we are."
This year the company dominated award categories for customer service from both SOLIDWORKS and Stratasys. GoEngineer Customer Loyalty Manager Val Meinen says that GoEngineer has worked hard to cultivate a culture of serving others. "Our support teams never forget that every computer, every 3D printer, and every piece of software is operated by a warm, caring human being." The GoEngineer Tech Support team achieved an astounding 97% customer satisfaction rating over the past two years. Meinen concludes: "At the end of the day we work with people first, striving to understand the needs of colleagues and customers alike. An organization is only as good as its human component."
About GoEngineer
GoEngineer delivers software, technology, and expertise that enable companies to unlock innovation and deliver better products faster. With more than 30 years of experience and thousands of customers in high-tech, medical, machine design, energy, and other industries, GoEngineer provides best-in-class design solutions from SOLIDWORKS, Stratasys, CAMWorks, Creaform 3D scanning, and Oracle's Agile PLM. For more information, visit www.goengineer.com.
About SOLIDWORKS
Powered by the Dassault Systèmes 3DExperience Platform, SOLIDWORKS 3D applications help millions of engineers and designers succeed through innovation. SOLIDWORKS delivers an intuitive experience in product design, simulation, publishing, data management, and environmental impact assessment.
About Stratasys
For more than 25 years, Stratasys Ltd. has been a defining force and dominant player in 3D printing and additive manufacturing - shaping the way things are made. Headquartered in Minneapolis, Minnesota and Rehovot, Israel, the company empowers customers across a broad range of vertical markets by enabling new paradigms for design and manufacturing. The company's solutions provide customers with unmatched design freedom and manufacturing flexibility - reducing time-to-market and lowering development costs, while improving designs and communications. Stratasys subsidiaries include MakerBot and Solidscape, and the Stratasys ecosystem includes 3D printers; a wide range of 3D printing materials; parts on-demand via Stratasys Direct Manufacturing; strategic consulting and professional services; and Thingiverse/GrabCAD communities with over 5 million 3D printable files for free designs. With 3,000 employees and 800 granted or pending additive manufacturing patents, Stratasys has received more than 30 technology and leadership awards.
Featured Product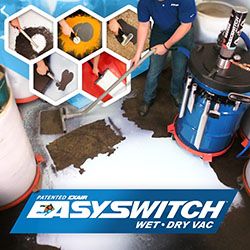 Line Vac conveyors are ideal for moving large volumes of material, parts or waste over long distances. Check out all our styles: Line Vac, Threaded Line Vac, Heavy Duty Line Vac, Sanitary Flange Line Vac and more. Compact, quiet and no moving parts. https://exair.co/184_564a