TAG Optics, the developer of the worlds fastest tunable focus lenses, and Mitutoyo Corporation, the world leader in precision measurement solutions, are proud to announce that they are entering into a strategic partnership which will include comprehensive technological alliance and cooperation.
TAG Optics and Mitutoyo have agreed to enter into a partnership centered around the use and development of TAG Optics TAG Lens for precision measurement applications. Specifically, the two companies will work together towards the inclusion of TAG Optics' technology into Mitutoyos large optical product systems portfolio. In addition, the partnership will facilitate Mitutoyos eventual acquisition of a controlling interest in TAG Optics.

"The addition of the worlds fastest focusing lens, the TAG Lens, to our portfolio of high precision optics will enable us to create new innovations in metrology and continue to provide our customers with world leading systems," said Toru Nakagawa, President of Mitutoyo Corporation.
Established in 2011, TAG Optics develops and commercializes a revolutionary tunable lens technology that uses sound to shape light and was originally developed in Professor Craig Arnolds research group at Princeton University. The Companys flagship device, the TAG Lens, features ultra-high-speed focusing with large aperture and near diffraction-limited performance. The unprecedented capabilities of the TAG Lens are ideally suited for applications ranging from part inspection to biological imaging, and even machine vision systems where focusing speed and image quality have a direct influence on operational throughput. TAG Optics was recently awarded a Phase II Small Business Innovation Research grant from the National Science Foundation for the development and commercialization of this technology.
"The formation of this partnership validates TAG Optics' technology platform and our commercialization and productization efforts from the past 5 years," said Christian Theriault, President and CEO of TAG Optics. "We are thrilled to enter into an alliance with Mitutoyo Corporation, the world's leader and most trusted brand in precision optics, measurement and inspection solutions."
The partnership is expected to generate significant synergies for both companies. These include product enhancements and value creation in Mitutoyos line of optical measuring and inspection systems, while providing the TAG Technology with new development and manufacturing capabilities. This will enable TAG Optics to develop new TAG-enabled systems for machine and robotic vision in addition to biological market segments.
About TAG Optics Inc.
TAG Optics Inc. is a start-up company headquartered in Princeton NJ that spun out of Princeton University in 2011 with the goal of transitioning the TAG Technology from a laboratory device to a commercial product. It has since been recognized as a world leader in high quality tunable lenses, winning several international awards for the technology and its TAG Lens family of products. Its products are currently used throughout the world in applications ranging from ultra-high precision microscopy to 3D machine vision. For more information, visit http://www.tagoptics.com
About Mitutoyo Corporation
Mitutoyo Corporation is a Japanese multinational corporation specializing in measuring instruments and metrological technology, headquartered Kanagawa, Japan. The company is the world's largest provider of measurement and inspection solutions offering the most complete selection of machines, sensors, systems and services with a line encompassing CMM (Coordinate Measuring Machines), vision, form and finish measuring machines, as well as precision tools & instruments, and metrology data management software. The companys vast network spans over 31 different countries. For more information, visit http://www.mitutoyo.co.jp/global.html
About the National Science Foundation's Small Business Programs
At the National Science Foundation (NSF), Small Business Innovation Research/Small Business Technology Transfer (SBIR/STTR) is an approximately $180-million program that catalyzes the commercialization of high-risk technological innovations via R&D grants to small businesses and startups. Through SBIR/STTR, NSF seeks to transform scientific discovery into societal and economic benefit. NSF is an independent, $7-billion federal agency that supports fundamental research and education across all fields of science and engineering. For more information, visit: http://www.nsf.gov/eng/iip/sbir/home.jsp
Featured Product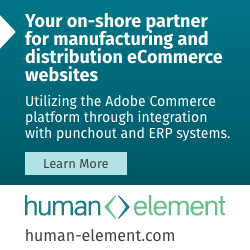 With Human Element, you will build a strategic partnership with experienced on-shore strategists and developers who understand the pain points unique to manufacturers and distributors. Using Agile methodologies and proven eCommerce website development strategies, our team positions clients for success.