Motion Dynamics Corporation, NuTek Food Science, Olde Thompson, Tower Oil & Technology and Uni-Grip Select Plex Manufacturing Cloud; Motus Integrated Technologies Extends Plex Deployment to New Facilities
TROY, Mich.--(BUSINESS WIRE)--Plex Systems, the leader in cloud ERP for manufacturing, achieved another record year in 2015, expanding to serve more than 450 customers across nearly 1,500 manufacturing facilities around the world. The Plex Manufacturing Cloud is the only cloud-based solution proven to support mid-sized and large manufacturing organizations in discrete and process industries from the shop floor to the top floor.

Industry Leading Manufacturers Choose Plex
Global organizations across multiple discrete and process industries including transportation, electronics, food and beverage manufacturing, aerospace and defense, and precision metalforming continue to choose Plex to run their operations. New Plex customers include:
Motion Dynamics Corporation is a leading manufacturer of custom micro springs, medical coils and wire components with expertise in laser welding and guidewires. Motion Dynamics is dedicated to the design, production and assembly of high quality wire components for medical device applications.
NuTek Food Science, LLC creates affordable and great-tasting foods that enhance global health and wellness. The company strives to grow its business by being great partners to the food system with innovative products for food manufacturers, food retailers and restaurant chains. With two revolutionary new salt products, NuTek Salt and Salt for Life®, the company delivers improved nutrition through unprecedented levels of sodium reduction in food, replacing it with potassium.
Olde Thompson is the largest manufacturer of salt and pepper mills in the world with a range of spice-related products from spice racks, peppermill and salt shakers to gourmet peppers and salts. In fact, every 18 seconds, someone buys an Olde Thompson pepper mill.
Tower Oil & Technology is a leading manufacturer in premium metalworking fluids offering advanced technology to a broad range of industries including automotive, appliance, defense, transportation, heavy equipment, building materials, medical and home products.
Uni-Grip, Inc. is a leading manufacturer in rubber trim and seal products that can be found on everything from riding lawnmowers to heavy equipment. For over 50 years, Uni-Grips products have been trusted to seal vehicle windows and more.
Global, Enterprise Manufacturing with Plex
Plex also helped customers move nearly 200 facilities onto the Manufacturing Cloud in the past year, supporting complex shop floor operations, supplier and customer relationships, and enterprise finance and administration. Plex enables customers to take a phased rollout to their deployments and to extend their Plex environments to support both organic growth and new acquisitions.
Motus Integrated Technologies, a leading manufacturer of high-performance headliners and unlit, illuminated and auxiliary coverage sunvisors for the global automotive market, selected Plex in 2014 and went live in four locations in 2015 including France, Germany, the U.S. and Mexico. Based on those successful deployments, the company recently chose Plex to run its newly acquired Leon Automotive Interiors business, including three facilities in Mexico.
Plex Receives Best and Brightest Companies to Work For® Recognition
Plex has been recognized for seven consecutive years as one of the 100 Best and Brightest Places to Work in Metro Detroit. In 2015, Plex was named one of the Best and Brightest Companies to Work For® nationwide by the National Association for Business Resources. The award is based on an independent research firms assessment of factors including communication, work-life balance, employee education, diversity, recognition and retention.
Comments on the News
"The Plex Manufacturing Cloud is the choice for industry leading manufacturing enterprises as they build a platform for growth and innovation around the world," said Jason Blessing, Plex Systems CEO. "The class of 2015 Plex customers is a great cross-section of leaders across diverse industries, and the continued expansion of our relationships with existing customers further demonstrates Plexs ability and opportunity to transform ERP in the cloud."
About Plex
Plex is the Manufacturing Cloud, delivering industry-leading ERP and manufacturing automation to more than 450 companies across process and discrete industries. Plex pioneered Cloud solutions for the shop floor, connecting suppliers, machines, people, systems and customers with capabilities that are easy to configure, deliver continuous innovation and reduce IT costs. With insight that starts on the production line, Plex helps companies see and understand every aspect of their business ecosystems, enabling them to lead in an ever-changing market. Learn more at www.plex.com.
Featured Product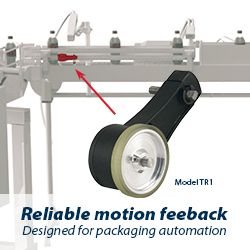 The Model TR1 Tru-Trac™ linear measurement solution is a versatile option for tracking velocity, position, or distance over a wide variety of surfaces. An integrated encoder, measuring wheel, and spring-loaded torsion arm in one, compact unit, the Model TR1 is easy to install. The spring-loaded torsion arm offers adjustable torsion load, allowing the Model TR1 to be mounted in almost any orientation - even upside-down. The threaded shaft on the pivot axis is field reversible, providing mounting access from either side. With operating speeds up to 3000 feet per minute, a wide variety of configuration options - including multiple wheel material options - and a housing made from a durable, conductive composite material that minimizes static buildup, the Model TR1 Tru-Trac™ is the ideal solution for countless applications.