Cyon Research announces that Andrew Hessel will give the Friday keynote at COFES 2016: The Congress On the Future of Engineering Software, held in Scottsdale, Arizona April 7-10 at the Scottsdale Plaza Resort
Cyon Research announced today that Andrew Hessel will give the Friday keynote at COFES 2016. COFES: The Congress On the Future of Engineering Software will be held in Scottsdale, Arizona from April 7-10 at the Scottsdale Plaza Resort.

In his keynote "Virus Engineering and Beyond", Hessel will discuss the programming of living things. He believes that we are now advancing from reading genetic code to writing it. This means that we can design tools specific for living organisms and prototype the processes to bring these designs into the real world. Hessel's work extends CAD and 3D printing into biology, a vast design space that is largely unexplored. Hessel says that cells are the ultimate 3D printers; they can be programmed to produce millions of compounds, including medicines, foods, or fuels—or used as ink in 3D printers.
"As a longtime friend of Andrew Hessel, I am pleased that Andrew is giving a keynote this year," explained Ping Fu, Chief Entrepreneur Officer of 3D Systems. "Andrew is on the leading edge of some innovative ideas, which has been demonstrated in the real world: the programming of living things. An insightful and inspirational speaker, I couldn't think of a better person to connect COFES audiences to relevant changes ahead in life sciences."
The theme for COFES 2016 theme is "The Move to Co-Evolution." For the past 16 years, COFES has provided an ideal environment for busy engineers and business leaders to lift their heads from the daily grind and consider their work in a broader context. This year COFES explores the nature of the tools needed to re-imagine design in the context of the 21st century.
"We've created great tools for the design of physical products and electronics and decent tools for the design of software," explained said Brad Holtz, president and CEO of Cyon Research Corporation. "What we haven't done is even conceive of the tools we need for co-evolution of complex things. That's what we will explore at COFES 2016."
About Hessel
Andrew Hessel is a futurist and catalyst in biological technologies, helping industry, academics, and authorities better understand the changes happening in life science. He is a Distinguished Researcher with Autodesk Inc.'s Bio/Nano Research group, based out of San Francisco. He is also the co-founder of the Pink Army Cooperative, the world's first cooperative biotechnology company, whose goal is to make open source viral therapies for cancer.
About COFES
Now in its 17th year, COFES is the annual, invitation-only event for the design and engineering software industry. Widely recognized as a think-tank event, COFES (cofes.com) gathers design and engineering software leaders (vendors, users, press, and analysts) together to discuss the role engineering technology will play in the future survival and success of business. COFES is renowned for hosting leading keynote visionaries that provide a new perspective to the future of the industry. The by-invitation-only COFES is a Cyon Research event. Apply for an invitation at apply.cofes.com.
About Cyon Research
Cyon Research Corporation is a think-tank providing key information, research, analysis, and consulting to its clients worldwide. COFES (The Congress on the Future of Engineering Software) and ASSESS (Analysis, Simulation, and Systems Engineering Software Strategies) are Cyon Research's primary events. cyonresearch.com.
Featured Product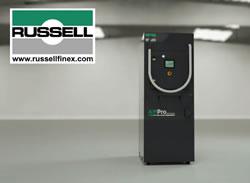 The Russell AMPro Sieve Station™ guarantees the quality of your additive manufacturing (AM) powder, and has been designed to provide optimum sieving efficiency, ensuring your powder is ready for use or reuse as and when you require it. With a simple one-button operation and mobile design, this automated check screener ensures your powder at every stage of the process is qualified for use quickly and safely. The flexibility of the Russell AMPro Sieve Station™ means you can use the system for numerous powder handling tasks - being a modular design ensures the machine can be configured to meet your exact requirements.