SPIE Photonics West, the fields largest photonics gathering of the year, ended with record attendance last week in San Francisco. Hot topics included laser materials processing, brain imaging, and miniaturization of optoelectronic technology.
SPIE Photonics West, the world's leading annual event featuring advanced technologies, new products, and research results in optics and photonics ended on Thursday 18 February, setting another record in San Francisco, according to organizers at SPIE, the international society for optics and photonics.

Participation in the technical conferences, courses, and exhibitions reflected the strength of the photonics industry overall, with total registered attendance exceeding 22,000 and the number of exhibiting companies in the Photonics West Exhibition - 1,345 this year - both up over last year.
"SPIE Photonics West is firmly established as the must-attend event in our industry," said Andrew Brown, SPIE senior director for global business development. "Photonics is the future, and this is where the worlds innovators and business leaders gather every year to launch new products, find new markets, and drive this industry forward."
The largest category of growth was in prospects to the busy mid-week Photonics West Exhibition, which sold out months before the event. Company representatives reported participants were indeed there to do business, and leads were plentiful.
"SPIE Photonics West may be the best place to generate business," said Johanes Trbola of Dausinger + Giesen GmbH.
In the annual LASE, OPTO, and BiOS conferences, thousands of presentations provided an international forum for researchers to report and discuss their latest results with peers, collaborators, and the business community. Topics including neurophotonics, 3D printing, miniaturization of biomedical and optoelectronic sensors and other devices, integrated photonics, photoacoustic sensing, fiber lasers, ultrafast lasers, and silicon photonics drew large audiences that reflect research funding and market opportunity.
Research on the workings of the brain was advanced in a new program track on neurophotonics organized by Rafael Yuste of Columbia University, one of the advisors who helped conceptualize and launch the U.S. BRAIN Initiative. Nitish Thakor of Johns Hopkins University, chair of the tracks conference on optogenetics and optical manipulation, noted that SPIE Photonics West is well-placed to help advance research and foster collaborations supporting the initiative. "This could become the go-to meeting for neurophotonics," Thakor said.
An extensive industry program complemented the technical conferences, with panels on 3D printing, silicon photonics, and business perspectives from industry executives, plus the SPIE Startup Challenge. The Prism Awards for Photonics Innovation banquet was a highlight for entrepreneurs and executives, honoring the most promising new products launched in 2015.
In a much-anticipated update on the ongoing SPIE analysis of the global photonics market, Stephen Anderson, SPIE director of industry development, spoke to the growing markets enabled by optics and photonics products. Total application revenues are approaching USD$1.5 trillion and the greater industry employs more than 3.5 million people, the SPIE study shows.
Panelists discussing 3D printing explored not only the technicalities of the field, but intellectual property challenges, cybersecurity threats, and ethical issues. Not only is it possible to produce lightweight airplane and automobile parts with 3D printers, but the technology has the potential to produce human tissue, noted panelist Rebecca Taylor of the National Center for Manufacturing Services.
"SPIE Photonics West is where leaders, entrepreneurs, technology buyers, researchers, engineers, and product developers across multiple disciplines and industries gather to share ideas, learn new possibilities, and connect face-to-face," said Peter Hallett, SPIE director of marketing and industry relations. "This event helps bridge the gap between academic research and commercial application, in the enjoyable setting of San Francisco."
The BiOS Expo, with 212 exhibiting companies, ran 13-14 February with full aisles and reports of numerous and strong leads. "In the first 30 minutes of the first day I got my first solid lead, and then 20 minutes later I got my second," said first-time exhibitor Alex Hay, president of Photon Manufacturing. "Over the two days I got even more. If as many of these leads close as I expect, I'm going to have to hire more staff! BiOS has been absolutely amazing -- I couldn't be happier."
A wide-ranging professional development program with 67 courses and workshops served the needs of attendees looking to add new skills. Among the topics were computational nanomedicine, properties and application-oriented specification of optical glass, high-dynamic-range imaging sensors and architectures, and fundamentals of molded optics.
SPIE Photonics West will return to Moscone Center 28 January through 2 February in 2017.
More news and photos from the event are at http://www.spie.org/pwnews.
About SPIE
SPIE is the international society for optics and photonics, an educational not-for-profit organization founded in 1955 to advance light-based science, engineering, and technology. The Society serves nearly 264,000 constituents from approximately 166 countries, offering conferences and their published proceedings, continuing education, books, journals, and the SPIE Digital Library. In 2015, SPIE provided more than $5.2 million in support of education and outreach programs. http://www.spie.org
Featured Product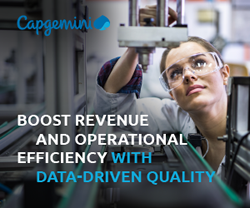 A reactive manufacturing cycle of building, inspecting, and correcting is no longer sufficient to meet rising customer wants and demands. To break this ineffective cycle, organizations must have a robust data-driven solution that combines a proactive focus on quality with integrated analytics and automation capabilities to turn quality control from a liability into an asset.