Machine shops of any size can apply these technologies on their shop floor to keep energy costs down.
Rising energy costs continue to affect profits and be a major concern for machine shops of all sizes. Hidden costs in CNC machining such as machine tool idling, unnecessary pump rotation and continuous running of peripheral equipment guzzle energy. Having the ability to manage these costs can provide significant savings.

A new white paper published by Okuma America Corporation, titled "Energy-Efficient Machine Tool Technologies, For Any Size Shop," discusses findings from a 2015 survey of metalworking companies which revealed that shops could see an energy cost increase of $21,541 in just one year. The white paper describes how Okumas ECO suite technology, part of OSP suite, can achieve significant energy savings by reducing power consumption during machine operating and waiting times. The white paper is available for free download at http://www.okuma.com/wp-energy-efficient-machine-tool-technologies. ECO suite is available on Okuma machines equipped with the OSP-P300 control and the new OSP suite application.
ECO suite reduces power consumption through four new intelligent control applications:
ECO Idling Stop - The worlds first application that stops machine tool idling, ECO Idling Stop has shown energy savings up to 74 percent during non-cutting operation (over a one month time frame). Using Okumas Thermo-Friendly Concept, this feature monitors the cooling status of the milling and turning spindles and automatically turns them off when cooling is complete.
ECO Power Monitor - This allows operators to see how much energy is being used and saved. The machine tools display shows power consumption for spindles, feed axes and peripheral equipment.
ECO Hydraulics - This optional feature provides accurate machining control at a very low rotation speed minimizing unnecessary pump rotation during dwell pressure applications. Rotation is optimized by combining the servo control technology on the machine tool with high efficiency hydraulic pumps. Demonstrations have shown 63 percent reduction in power consumption.
ECO Operation - Operators set time limits for peripheral equipment, automatically stopping them after cutting is finished.
In addition to efficient technologies, many Okuma machine tools are equipped with a PREX Motor. PREX motors are compact and lightweight and are the first commercialized high-performance reluctance motor to make acceleration and deceleration highly responsive. Their ideal combination of horsepower, torque, thrust, and lower inertial mass is designed to optimize machine performance and reduce energy consumption by 5-13%.
Okumas ECO suite won the Excellence Award/Minister of Economy, Trade and Industry Award at the 45th Machine Design Awards, sponsored by the Nikkan Kogyo Business and Technology Daily News.
For more information on Okumas energy saving ECO suite visit http://www.okuma.com/eco-suite-energy-saving-cnc-control-applications.
About Okuma America Corporation
Okuma America Corporation is the U.S.-based sales and service affiliate of Okuma Corporation, a world leader in CNC (computer numeric control) machine tools, founded in 1898 in Nagoya, Japan. The company is the industrys only single-source provider, with the CNC machine, drive, motors, encoders, and spindle all manufactured by Okuma. The company also designs their own CNC controls to integrate seamlessly with each machine tools functionality. In 2014 Okuma launched the Okuma App Store, the industrys only centralized online marketplace for machine tool apps and related content. Along with its extensive distribution network (largest in the Americas), and Partners in THINC, Okuma is committed to helping users gain competitive advantage through the open possibilities of machine tools, today and into the future. For more information, visit http://www.okuma.com/americas or follow us on Facebook or Twitter @OkumaAmerica.
Featured Product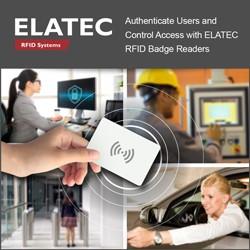 With a tap of the badge, RFID readers from ELATEC provide secure, reliable and easy-to-use user authentication, access control and usage tracking of hardware and software in industrial automation processes. Reader durability in harsh plant floor environments is another essential feature. Choose the right authentication and access control solution and extend RFID card-based capability for the access control of PLC, robot and HMI automation controller software and devices requiring special operator training.