VISION: THE EYE OF AUTOMATION
Machine vision (MV) is enjoying sales increases in double digits. Demand is growing constantly for ever more powerful components and systems, driven by increasingly sophisticated automation projects. AUTOMATICA 2016, which will take place in Munich from June 21 to 24, shows the new and further developments in the MV industry.

Vendors and system integrators in the machine vision industry constantly succeed again and again to provide new automation concepts with pioneering developments. Advances in service robotics, the trend topic Industry 4.0 and human-machine collaboration as well as industry-specific tasks from leading industries sectors are still making new demands on the innovative power of machine vision today. "The very quick response to user requests distinguishes our industry while ensuring dynamism and growth at the same time. The figures also underscore this. While robotics and automation achieved a new record in 2014 with an increase of nine percent, it was once again machine vision that saw the strongest growth with an increase of 16 percent to 1.9 billion euros in sales," emphasized Dr. Norbert Stein, Managing Director of Vitronic GmbH and CEO of the VDMA Robotics + Automation.
From a standard application ...
The positive development has a tangible reason: Many automation projects can simply not be realized without vision systems. This begins with simple tasks such as reading bar codes or data matrix codes, continues to standard tasks such as sorting cookies or candy in the food industry and goes all the way to highly complex machine vision tasks in the automotive industry.
Visitors to AUTOMATICA can experience on site especially how easy it is to solve standard tasks today. The magic word here is smart camera. It not only takes pictures, but also evaluates them it thanks to an integrated processing unit for processing data. Consequently, a PC is superfluous. The new developments in this sector convince thanks to their compact design with significantly enhanced performance.
"By combining faster frame rates with high computing power, users can optimize resolution, speed and performance even on the fastest production lines. Thanks to that, they can reduce cycle times, increase productivity, increase resolution without loss of throughput or perform additional testing without increasing the cycle time," explained Jörg Küchen, Vice President of Cognex.
... to complex tasks
However, not every problem can be solved with standard components and plug+play installations. To the contrary: If there is a certain degree of complexity, system integrators are required such as ISRA Vision, VITRONIC and VMT. Harald Mikeska, VMT machine vision specialist from the very beginning, knows what is important in complex applications, especially in the automotive industry: "The great variety of models, in particular in the premium area, requires increased inline-monitoring of assembly processes. At a major automotive manufacturer in the Stuttgart area, up to 120 different assembly parts and components are monitored on the underbody directly on the line in continuous operation. In addition, high-performance machine vision and laser scanner solutions from VMT with up to 12 cameras are used, which have to achieve an availability of greater than 99.8 percent."
Not only manufacturers of machine vision components are exhibiting at AUTOMATICA, but also system integrators and research institutes as well as VDMA Machine Vision at the joint Machine Vision Pavilion.
Industry 4.0 and Other Hot Topics
Industry 4.0 is also a focal topic at AUTOMATICA. There is a great deal of anticipation concerning what progress and developments with regard to the direct linking of machine vision with the control environment in production could be realized and how data transmission looks (keyword: interfaces).
Christof Zollitsch, Managing Director of Europe's leading machine vision technology leader Stemmer Imaging, noted: "Machine vision technology is a fundamental part of Industry 4.0. This concept cannot be realized without machine vision. Due to the high demands on sensory systems, Industry 4.0 also represents a great opportunity for machine vision to establish itself further in production as a key technology. AUTOMATICA will show the future direction of such developments."
How rapidly the miniaturization of high-tech cameras is progressing, what resolutions have been achieved in the meantime (e.g., how the use of increasingly efficient lighting systems results in higher process reliability) and why laser light technologies are increasingly penetrating international markets not only in the automotive industry will also be shown in Munich. Whoever wants to be fully informed about the latest developments from components to complete solutions is at the right place at AUTOMATICA: More than 80 exhibitors from the machine vision industry alone already pledged their fair participation six months before the start of the trade fair.
About AUTOMATICA
AUTOMATICA is an international trade fair for robotics and automation and the central meeting point for manufacturers and users of integrated assembly solutions, robotics, machine vision and professional service robotics. At the last event in 2014, a total of 724 exhibitors from 42 countries presented their products and solutions; 34,493 visitors from more than 100 countries came to the Munich trade fair. Messe München GmbH and VDMA Robotics + Automation, conceptual sponsor of the trade fair, are behind the industry-driven concept of AUTOMATICA. AUTOMATICA takes place every two years. The next fair will be in Munich on June 21 to 24, 2016.
About Intersolar Europe
Intersolar Europe in Munich is the leading trade fair for the solar industry and its partners. It has brought international players in the industry together for 25 years. Parallel to Intersolar Europe, ees Europe takes place annually, Europes largest trade fair for batteries and energy storage systems.
Messe Muenchen
Messe München is one of the worlds leading trade-show companies. It organizes some 40 trade shows for capital and consumer goods and key high-tech industries in Munich alone. 14 of those events are number 1 in the world in their respective industries. Each year more than 30,000 exhibitors and some two million visitors take part in events held at the Messe München trade-fair center, the ICM - Internationales Congress Center München and the MOC Veranstaltungscenter München. In addition, Messe München organizes trade shows in China, India, Turkey and South Africa. Messe München has a global business presence with affiliates in Europe, Asia and Africa and more than 60 foreign representatives serving more than 100 countries.
Featured Product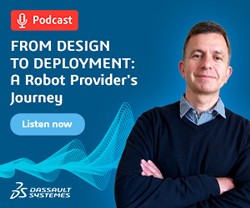 Let's listen to Arvind Krishnan, industry analyst at Lifecycle Insights and Michael Mayr, Industrial Equipment Sales Strategy Expert at Dassault Systèmes. They will discuss the robot industry and how startups can succeed in this market.