The TEC Cloud ERP Software Buyers Guide for Manufacturing is aimed primarily at small and medium-sized manufacturers. It addresses the key questions these businesses have about cloud software deployment, and assists decision makers in their evaluation of cloud enterprise resource planning (ERP) software solutions.
TEC is pleased to announce the publication of its latest software buyers guide, the 2016 Cloud ERP Buyers Guide for Manufacturing. Written by TEC senior ERP analyst Aleksey Osintsev, this guide examines cloud ERP from various areas of interest to manufacturers, including cloud computing technology trends, cloud ERP basics, software delivery options, pros and cons of using cloud-based software, and an overview of available vendor solutions. All this information is critical for manufacturers considering migrating to a cloud ERP solution.

As a guide written specifically for manufacturers, it examines the often misplaced concerns these businesses have with cloud ERP, which have caused the manufacturing sector to lag behind in its adoption of cloud ERP solutions. It also looks at why more and more manufacturers are now choosing to migrate to the cloud, and the major benefits that are driving cloud ERP adoption. These include implementation, flexibility, scalability, compliance, maintenance, uptime, and integration with other enterprise software solutions.
Says guide author Aleksey Osintsev, "Cloud computing is one of the most important advances in enterprise software, and manufacturers are keen to learn all they can before making any decisions. This guide helps fulfills that need." It provides key information and guidance for manufacturers on how to select the right cloud ERP solution.
The TEC 2016 Cloud ERP Software Buyers Guide for Manufacturing includes a comprehensive product comparison chart displaying the top cloud ERP software solutions, and a range of real-life case studies that highlight customer successes from top ERP software vendors such as IFS, IQMS, NetSuite, Rootstock Software, SAP, and VAI. Rounding out the guide are thought leaderships from market leaders and a vendor directory of cloud ERP vendors.
To download your free copy of the guide, visit
http://www.technologyevaluation.com/research/TEC-buyers-guide/TEC-2016-Cloud-ERP-Buyers-Guide-for-Manufacturing.html.
For more information on TECs software evaluation and selection services, contact +1 514-954-3665, ext. 404, or email selectionservices(at)technologyevaluation(dot)com
About Technology Evaluation Centers (TEC)
Technology Evaluation Centers (TEC) is the worlds leading provider of software selection resources, services, and research materials, helping organizations evaluate and select the best enterprise software for their needs. With its advanced decision-making process and software selection experts, TEC reduces the time, cost, and risk associated with enterprise software selection.
Over 3.5 million subscribers leverage TECs extensive research and detailed information on more than 1,000 leading software solutions across all major application areas. TEC is recognized as an industry-leading software selection advisory firm offering resources and services both online and onsite. For more information, please visit http://www.technologyevaluation.com.
Featured Product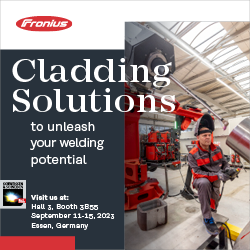 Ever since the invention of our "cold" MAG welding process Cold Metal Transfer (CMT), if not earlier, we have continuously achieved a technological edge in many welding-related areas, resulting in cutting-edge mechanized and automated welding systems. Advanced power source technology stabilizes the arc and ensures perfect welding results. Modern monitoring sensors optimize guidance of the welding torch and compensate for component tolerances. Last but not least, smart data documentation systems assist in perfecting the welding process. Collaborative systems, smart sensor technology, software solutions for data management, and offline programming including welding simulation open up profitable welding opportunities for metal processing companies starting with a single batch. That is why our robotic welding cells prove profitable not only for large companies, but also for small and medium-sized enterprises.