Streamline your CNC programming with the new module NCSIMUL CAM
Jan 28, 2016 -- SPRING Technologies, worldwide leader in delivering dedicated CNC software solutions to enable the optimal use of CNC machines, will be demonstrating its innovative software platform NCSIMUL SOLUTIONS at METAV 2016, the international tradeshow for metalworking technologies, which will take place at Düsseldorf in Germany from February 23rd to 27th 2016. The focal point of SPRING Technologies' presentation at METAV will be its latest module, NCSIMUL CAM. This cutting-edge all-in-one CNC programming solution optimizes existing CAM process and enables a simplified, bidirectional End-to-End-Machining Process.

As an innovative example for the realization of Industry 4.0, SPRING Technologies will showcase its NCSIMUL SOLUTIONS platform with the new NCSIMUL CAM, on its own booth hall 14 - D122, as well as at the INNOVATION PARK of Industry Arena - hall 14 booth A107.
NCSIMUL SOLUTIONS for an optimal use of CNC machines
The software all-in-one platform provides a complete, integrated control of the entire end-to-end machining process in real time, including NC programming, machine simulation, optimization, tool management, program transfer and real-time monitoring of the machine status.
NCSIMUL SOLUTIONS 10 - A simple and unified platform
With the new revolutionary module NCSIMUL CAM, enriching the existing CAM process, CNC machines can be run 100% collision-free from the first second - without the need of any external post-processor. It allows to change, in one click, the target machine, without any CAM CNC reprogramming, whatever the type and complexity of the machine, its kinematics and the type of controller, providing unparalleled flexibility on the shop floor.
NCSIMUL MACHINE is an innovative new generation solution of CNC simulation that truly ushers in the smart factory: with incomparable high performance, extremely fast and realistic. Companies are getting end-to-end control of their machining process, integrating the creation of cutting tool libraries, optimized cutting conditions, simulation and optimized CNC programs, as well as the ability to publish the manufacturing data needed for operators in the workshop. In this way manufacturers cannot only save countless man and machine hours, but achieve also better results regarding quality and the machine's lifetime. On stage at the INNOVATION PARK, SPRING Technologies will demonstrate impressively "How to reduce your machining time by 20% with just 10 minutes of programming".
In this way, manufacturers can quickly adapt their programs to the latest available resources, re-tooling or needs for maintenance. NCSIMUL CAM can be used in one click to reprogram the machining operation for another machine and automatically reconfigure the tool magazine, for a complete flexibility of the production process.
Another highlight at SPRING Technologies' METAV booth is named WYSIWIC: "What you see, is what you cut".
WYSIWIC : Real-Time synchronized simulation with CNC machines
WYSIWIC enables machine operators and production managers to check 3D simulations in real time also on their Panasonic Toughpad - synchronized with the real machine.
The unique concept of the new NCSIMUL SOLUTIONS platform does not only simplify and streamline the entire digital production process, it also enables users to control costs and production times, while increasing CNC machine uptime and winning the battle of flexibility.
The keynote session on "Industry 4.0: Intelligent CNC Machining with NCSIMUL SOLUTIONS" at the expert panel of INNOVATION PARK will summarize the innovative potential of NCSIMUL SOLUTIONS in the Smart Factory.
The SPRING Technologies team is looking forward to live demonstrations as well as inspiring conversations with the visitors of METAV.
Where? Messe Düsseldorf, SPRING booth- hall 14 booth D122 - and demonstration point at Innovation Park of Industry Arena - hall 14 booth A107.
When? February 23rd-27th 2016
Featured Product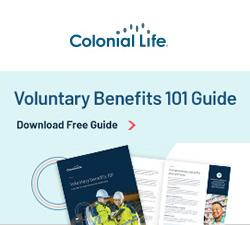 If there was ever a time to add voluntary benefits to your employees' compensation package, this is it. The tight labor market combined with supply chain bottlenecks, continued COVID-19 outbreaks, rising input costs and workforce challenges have helped drive a national trend of record high turnover rates for the manufacturing sector, making it imperative to evaluate compensation and benefits packages to remain competitive. The voluntary benefits 101 guide for manufacturers provides practical information about voluntary benefits without the jargon or complicated details. Download the guide.