CloudDDM, LLC has developed a free online application called PrintNow, enabling Onshape users to quote and order finished 3D-printed parts directly from their Onshape dashboards.
CloudDDM, LLC, a company dedicated to delivering direct digital manufacturing (DDM) services, has developed a free online application called PrintNow, which enables Onshape users to quote and order finished 3D-printed parts directly from their Onshape dashboards. The first app in the new Onshape App Store that directly facilitates part production, PrintNow introduces manufacturing capabilities into the Onshape platform, empowering Onshape users even further.

One of the Onshape App Stores Integrated Cloud Apps, PrintNow can be acquired through the Onshape App Store for free. Once installed in a users Onshape account, it adds a "PrintNow" tab to any part detail screen. When placing their first order, a user will be prompted to create a free account with CloudDDM — a simple process that requires just an email address and password. Manufacturing quotes are then delivered in real time and parts can be ordered by simply clicking the "Checkout" button after reviewing part details. All billing is handled through a user's Onshape account, making the PrintNow ordering process a seamless, integrated experience.
"Our goal at CloudDDM is to help engineers expedite the prototyping process," said Mitch Free, Co-Founder and CEO of CloudDDM. "Often, part production is one of the most time-consuming parts of the process. By providing overnight additive manufacturing and delivery through our direct digital manufacturing service, we can shave weeks off an iterative prototyping schedule. This emphasis on supporting engineers seemed to align directly with Onshapes mission, making this app a no-brainer."
CloudDDM can deliver parts in as quickly as one day. Parts are produced in high-definition on commercial additive manufacturing systems to ensure dimensional accuracy and structural integrity. Material options include real engineering thermoplastics and metals such as ABS, polycarbonate, ULTEM, nylon, stainless steel and titanium. CloudDDM is a run like a manufacturing company, not a service bureau, thus all the quality control and intellectual property protections you would expect are inherent in the operation.
About CloudDDM
CloudDDM is a provider of direct digital manufacturing (additive manufacturing) services to the consumer products, packaging, aerospace, automotive, transportation, and medical industries. Headquartered in Atlanta, CloudDDM currently serves designers, engineers, and manufacturers throughout the United States. The company can be found online at http://www.cloudddm.com.
Featured Product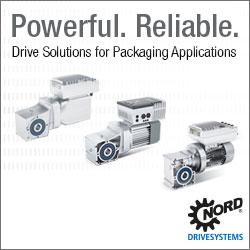 NORD's redesigned line of small CLINCHER parallel gear units showcase increased power and torque capacity for a variety of applications. These re-engineered versions will be replacing the existing SK0182NB, 0282NB, and 1382NB units. They are lightweight, have improved heat dissipation, are more cost-effective, and are available with NORD nsd tupHTM sealed surface conversion for wash-down and extreme environments.