Ciiva has unveiled a new intelligent parts data technology for PCB Design at DesignCon 2016 in Santa Clara, CA. This technology enables new tools for electronics designers to transform design intent into realizable design with intelligent data backed by the latest advances in data automation, analysis and verification technology.
Ciiva will unveil brand new intelligent parts data analysis & verification technology for PCB design at DesignCon 2016, a premier conference and technology exhibition for electronic design engineers. This technology powers new tools for engineers to seamlessly transform design intent into realizable design with the latest advances in data automation and analysis. Engineers interested in trying out the new solutions available in this platform can register now for a free 30 day trial at http://www.ciiva.com.

"The accepted norm in the electronics design industry for decades has been to fix mistakes before they go to manufacture." said Leigh Gawne, Head of Ciiva. "We're taking a new approach and asking, 'how can we avoid mistakes in the first place?'"
Manufacturable BOM Every Time
With this new technology, Ciiva set out to accomplish one primary goal - to provide engineers with better data at design time to successfully produce manufacturable electronic designs. Together with new tools, this technology enables a designer to tap into the latest advances in data automation and analysis, and helps engineers to produce an error-free and sourceable Bill of Materials, complete parts data, and organized parts libraries. Ciiva is offering several new intelligent solutions to meet the unique needs of every engineer, including:
Smart Parts Search that allows an engineer to make the most informed part selections with access to historical lifecycle data, real-time pricing and availability data, and verified alternatives for millions of components in the Ciiva parts database.
Smart Parts Analysis that allows an engineer to streamline their supply chain sourcing with advanced BOM validation technology that analyses every part in a design to confirm correct part numbers, availability, and pricing.
Smart Parts Management that allows an engineer to automate daily parts management tasks with advanced technology that automatically completes parametric data on components and keeps libraries organized and updated.
"As engineers we go to enormous lengths to ensure a successful PCB fabrication process, but we often don't apply the same rigorous standards to our parts," said Jason Hingston, CTO. "Ciiva Smart Parts brings a new level of visibility to part selection, validation, and management that naturally lends itself to accurate part libraries, efficient part reuse, and ultimately a manufacturable BOM."
Availability Details
The intelligent parts management solution from Ciiva is available at several pricing tiers and packages to meet the needs of every electronics designer. Engineers interested in enhancing their parts management process with intelligent parts management technology can register now for a free 30 day trial at http://www.ciiva.com. Those in attendance at DesignCon 2016 can also get a hands-on demonstration of all the new Ciiva technology at booth 407.
Featured Product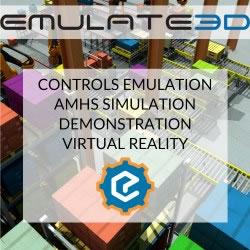 Emulate3D software helps you model and test your AMHS solutions rapidly. Use Demo3D to create running models quickly, then generate videos, stills, or view the models in virtual reality at the click of a button. Sim3D enables you to carry out experimental test runs to select optimal solutions and the most robust operating strategy, and Emulate3D Controls Testing is the best way to debug your PLCs offline, and off the project's critical path. Connect to major PLCs, import CAD, and plug into HTC Vive and Oculus Rift to produce awesome models!