System-enforced training leads to impeccable quality control for high-tech manufacturers
TORONTO--(BUSINESS WIRE)--Eyelit Inc., a manufacturing software provider for visibility, control, and coordination of manufacturing operations for the aerospace & defense, discrete electronics, life sciences, medical device, semiconductor, and photovoltaic (solar) industries, announced today the new Eyelit Operator Certification™ module for its suite of integrated MES and QMS software.

The Operator Certification module works seamlessly with any third-party or Eyelit's document management system to check for new versions, and sends notifications of new or recurring training requirements. The system supports version control of training documents, including manufacturing instructions and standard operating procedures. When an operator attempts to perform work, the system verifies that the operator has been properly trained and certified on specific versions of documents and subdocuments associated with that job function and process operation. The system maintains a matrix of all operators and their certification statuses for each training document. This reporting feature enables training administrators and managers to anticipate training needs and schedule training programs for continued improvement and compliance.
The Eyelit Operator Certification module was developed in close collaboration with a leading Fortune 500 company for mission-critical quality controls in its aerospace and defense microelectronics production facility. This new module builds upon the extensive manufacturing execution controls and quality management capabilities of Eyelit's suite of software.
"Our customers make some of the world's most complex components and end products," stated Dan Estrada, Eyelit's Vice-President of Sales and Marketing. "This new software extends our operator certification capabilities to a finer granularity for stringent quality controls. We are extremely happy to be able to leverage this collaborative relationship in developing this software module, from which all of our customers can benefit. Precision and quality is of the utmost importance to ensure the production of fail-safe and reliable medical, transportation, security, and defense systems."
About Eyelit Inc. (www.eyelit.com)
Eyelit Inc. is the leader in Manufacturing Execution and Quality Management (MES and QMS) solutions for visibility, control, and coordination of manufacturing operations for the aerospace & defense, electronics, life sciences, medical device, semiconductor, and solar industries. Eyelit uniquely delivers a broad set of manufacturing solutions, including Asset Management (Semi E10, SEMI PV2-0709), Dispatching, Factory Integration (Automation), Manufacturing Execution (MES/MOM), Recipe Management, Supply Chain Management, Quality Management (CAPA/OCAP/SPC/APC/RMA), and Business Process Management, that enable its customers to rapidly and cost-effectively optimize production and company processes.
With exceptional customer service, Eyelit has time and again proven that superior, innovative technology can maximize efficiency and value. More than 50 leading companies, including Ascent Solar, austriamicrosystems, CEA-Leti, CEITEC, eMagin, FLIR Systems, Freescale Semiconductor, Innovative Micro Technology (IMT), Kionix, Mellanox, Mentor Graphics, Murata Electronics Oy, PerkinElmer, Raytheon Company, SEMATECH, TowerJazz, Umicore, and X-FAB, rely on Eyelit as a trusted software partner. Follow Eyelit on LinkedIn and Twitter.
Featured Product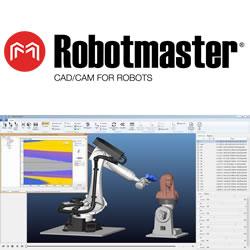 Since Robotmaster V7 uses integrated CAD/CAM functionality, for the first time, the power of Robotmaster can be used by welding, cutting and other process experts without buying or learning complex CAD/CAM software. As in past versions, Robotmaster V7 imports paths, but now makes it even easier for end users to leverage any CAD/CAM tool choice. It is an intuitive tool that anyone could use, with or without robotics expertise. It bridges the gap between robots and manufacturing by providing easy programming solutions for part manufacturing.