Fisher Unitech, a world leader in providing the design and manufacturing industry Stratasys 3D printing technology, announced today that it will be hosting a complimentary webinar series titled "3D Printing for Manufacturing".
Troy, MI December 15, 2015 -- Fisher Unitech will be hosting a webinar series that will run throughout the months of January and February with all webinar presentations scheduled to take place at 2:00 PM EST. These webinars will offer participants a better understanding of not only the differences between Stratasys Fused Deposition Modeling and Polyjet 3D printing technologies but also how the design and manufacturing industries are utilizing 3D printing to make better quality products.

All presentations will be given by our experienced Fisher Unitech 3D Printing Applications Engineering staff and will offer participants a question and answer session at the end of each presentation.
These informative webinar presentations will specifically cover:
* 3D Printing Industry Trends and Forecasts
* Additive Manufacturing Meets Traditional Manufacturing
* Fused Deposition Modeling and Polyjet 3D Printing Materials Characteristics Overview
For more information and to register for these webinars, visit http://www.funtech.com/Events/3D-Printing-Webcasts
About FISHER/UNITECH (http://www.funtech.com).
FISHER/UNITECH, established in 1993, provides advanced technology solutions to discrete manufacturing companies. The company's focus is on process improvement for product development. The technology applications offered focus on design, engineering, 3D Printing and additive manufacturing. Professional services are offered for design automation and data management which provides customers with a full service, one-stop source for complex PLM systems. The company offers advanced web-based delivery of education programs with its interactive, instructor-led 3DU. Please visit the company's website at (http://www.funtech.com) or call 800-816-8314.
Featured Product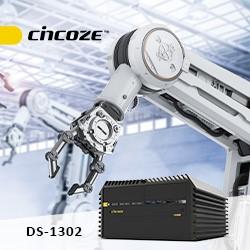 Powered by 10-core 10th-gen Intel® Xeon® or Core™ CPU, the DS-1300 is a rugged, high performance, highly expandable embedded computer. It supports up to two PCI/PCIe expansion slots (combined max 110 W), various commercially expansion cards available in image capture cards, motion control cards, or GPU cards. The DS-1300 series is suitable for deployment in industrial automation, factory automation, machine vision, AIoT and applications requiring high computing power in harsh environments.