New Fotonic E-Series Defines State-of-the-Art in Time-of-Flight, Triangulation Technology
BOULDER, Colo.--Acroname, developer and distributor of expandable hardware and software products for embedded robotic, automation, control systems and manufacturing testing, has been named the U.S. reseller of Fotonic 3D time-of-flight (TOF) cameras. Based in Stockholm, Sweden, Fotonic is a startup that spun out of Optronic, one of the worlds leading optoelectronics companies, with the mission to bring this new smart camera technology to market.

TOF technology measures the time it takes light to travel from a source back to the cameras sensor, operating essentially as radar and sonar, but using light instead of radio waves or sound. Triangulation calculations measure the objects angles to capture distances, thus synchronizing three-dimensional light source and image data sets, similar to how dolphins and bats use sound waves to navigate. With its ruggedized design, IP67 rating, and ability to work outdoors in a variety of ambient light conditions, the Fotonic Series E sets a new state-of-the-art standard for a wide range of new applications.
"We believe 3D cameras are the key enabler for new automation and robotics to create a safer and better world," said Fotonic CEO and Founder Rickard Åström. "With Acroname as our U.S. distributor, weve found a partner with unmatched experience, one that understands the product and its potential, and one that shares our ethic of working directly with customers to solve engineering problems that create competitive advantages."
The Acroname and Fotonic teams are working with clients to integrate this technology to driverless car collision avoidance and pedestrian safety, medical applications and patient care, logistics and automated materials handling, airport baggage and security systems, agriculture and mining, manufacturing and machine vision - even interactive art exhibits, automated cow milking machines and other unique object detection scenarios.
Based on a state-of-the-art CCD image sensor, the camera performs well outdoors and in harsh thermal conditions, producing high-quality 3D imaging at 50 frames per second. The sensor affords the ability to run on very short cycles, which avoids overexposure problems in bright sunlight, while the powerful built-in illumination substantially improves performance in dark conditions. Low motion artifacts and high frame rate enable effective, reliable tracking of moving objects, and the powerful Texas Instruments ARM processor together with the Linux OS enable users to easily run their own software on board to simplify imaging analysis on their computers.
"Were just at the beginning of seeing where this game-changing technology can go," said Acroname CEO Justin Gregg. "Were exploring all sorts of potential applications and consulting with a variety of customers - and many developers, particularly those in defense and automation industries, already have their own ideas of what the Fotonic camera can accomplish, so we make it easy to purchase directly from our online store."
About Acroname
Boulder-based Acroname designs, develops and distributes products for applications in embedded robotic, automation and control systems. Founded in 1994, the companys BrainStem® technology platform provides highly expandable hardware and software tools used in OEM applications around the world. The technology serves as the foundation within a number of products including Acronames Manufacturing Test Modules and Programmable USB Hub available in the companys comprehensive online store. For more information, please visit: www.acroname.com.
About Fotonic
Fotonic develop, manufacture and market 3D cameras that meets the highest demands of industry. Based in Sweden, with one of the worlds most experienced engineering teams in 3D camera hardware and real time image processing software. The companys time-of-flight and triangulation technology enhances existing applications and opens doors to new ones. For more information, please visit www.fotonic.com.
Featured Product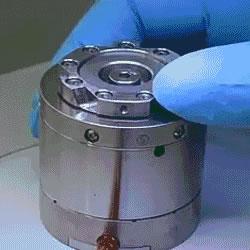 A traditional gantry system employs X-Y or X-Y-Z range of motion. Mounted on a base plate, usually granite, 2 parallel rails constitute the synchronized Y axis motion while the cross axis (bridge axis) provides the X motion. A vertical axis can be added on the bridge for the Z motion. A Split Bridge system can be less complex than a traditional gantry system because synchronization of the two parallel linear motors is not required. Both systems are used in industrial production, testing, and additive manufacturing.