Vital Insight into Progressive Building and Design Technology Solutions for a Connected Future.
Tempe, AZ December 14, 2015 -- CADsoft Consulting Inc, a proven leader in the implementation of design and construction technologies, is excited to announce the official launch of CADsoft University in Tempe, Arizona, a conference where architecture, engineering, and construction professionals will uncover new ways of implementing design solutions. The conference will be led by CADsofts award-winning technical team and is scheduled to run in Phoenix on January 13, 2016 and in Albuquerque on February 18, 2016.

CADsoft Universitys agenda is divided into two sections for Infrastructure & Design and Building & Construction, with the underlying theme of "this is what the future will be, but you can do this now." The technical team will cover the three phases of a civil engineering project—planning and collection, design, and output—during the Infrastructure & Design portion of the day via demonstrations of Autodesk products like Autodesk Infraworks 360, Autodesk ReCap, and Autodesk 3ds Max. The Building & Construction portion will educate attendees on generative design, virtual reality for design review, handheld laser scanning for as-built design and building energy monitoring for facilities management.
CADsoft University will also include the teams presentation of mapping 3D models and taking photos with drones, as well as the "Living City Project," a concept that will help specialists understand AutoCAD softwares profound ability to help them envision lifelike representations of entire cities without ever touching a shovel.
Autodesk evangelist Lynn Allen will be hosting a luncheon to shed light on the "Future of Making Things," an era of technological trends and disruptions in building design and construction that progresses at breakneck pace.
"CADsoft University is the public presentation of our technical teams forward-thinking momentum and groundbreaking design solutions they have studied," said Tim Duncan, President/CEO of CADsoft. "Equipping our customers with the most up-to-date information possible is one of CADsofts top priorities, and this conference will enlighten them on the best of the present and the best of the future."
The full scoop on CADsoft University can be found here. AEC industry specialists who wish to attend the event can register here for Phoenix and here for Albuquerque.
About CADsoft Consulting
CADsoft Consulting, an Autodesk Gold Partner and BIM360 Advisor Partner, was founded over 24 years ago for the main purpose of assisting architecture, engineering, and construction organizations to maximize the value and adoption of advanced technologies so they can realize peak efficiencies and perform competitively in their industries. http://www.cadsoft-consult.com
Autodesk, the Autodesk logo, 3ds Max, AutoCAD, Infraworks, and ReCap, are registered trademarks or trademarks of Autodesk, Inc., and/or its subsidiaries and/or affiliates in the USA and/or other countries.
Featured Product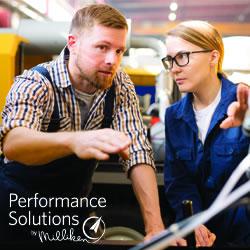 Performance Solutions by Milliken is a dedicated consulting and training group that helps guide businesses toward success. From supply chain, to operations and safety, we're dedicated to developing sustainable results for our clients through the implementation of a holistic operating system. We believe engaging all associates in the process will systematically transform your company to create efficiency, uncover hidden capacity, and generate long-term gains. Are you ready to reinvent your operations and transform your organization? Let's get started.