The U.S. utility patent incorporates compression into a powder/binder-jet 3D printer. Improved strength of 3D printed ceramics is achieved and may be applicable to other powder materials.
Omaha, NE December 11, 2015 -- Tethon Corporation Inc. ("Tethon 3D") announced the filing of a U.S. utility patent application describing a 3D printer design. The printer patent relates to technology that incorporates compression into a powder/binder-jet 3D printer.

"We consider this new IP a significant advancement in the field of ceramic additive manufacturing. Our studies show increased strength of 3D printed ceramics that have never before been achieved in ceramic 3D printing," says Karen Linder, President and CEO of Tethon 3D. "The act of compression is essential for producing strong porcelain, stoneware and earthenware 3D printed objects and this printer design could possibly also improve the production of objects printed in other powder materials."
The company has built a prototype 3D printer based on this IP and is evaluating potential engineering partners to bring the technology to market.
About Tethon 3D
Tethon 3D manufactures Tethonite ceramic powder, binder and other supplies for 3D printing. The company also provides service in 3D modeling, scanning and ceramic 3D printing, as well as 3D printing educational workshops and a residency program. Additionally, the company is active in materials development in ceramics and other composites for use in SLA/DLP 3D printing.
The Tethon 3D facility is located in Omaha, NE. The company has three previous US patents issued for its technology. For more information on Tethon 3D, visit http://www.tethon3d.com.
Featured Product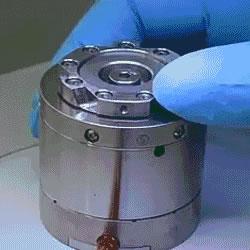 A traditional gantry system employs X-Y or X-Y-Z range of motion. Mounted on a base plate, usually granite, 2 parallel rails constitute the synchronized Y axis motion while the cross axis (bridge axis) provides the X motion. A vertical axis can be added on the bridge for the Z motion. A Split Bridge system can be less complex than a traditional gantry system because synchronization of the two parallel linear motors is not required. Both systems are used in industrial production, testing, and additive manufacturing.