The contest is currently underway. It will end at 11:59 p.m. (CST) on May 27, 2016.
DALLAS & FORT WORTH, Texas--Mouser Electronics, Inc., the global authorized distributor with the newest semiconductors and electronic components, today announced that it will sponsor the 2016 North American Texas Instruments Innovation Challenge Design Contest.

The design contest is intended to encourage engineering students to solve today's engineering problems by employing analog and embedded design skills into electronic solutions. The contest offers the possibility to touch on all aspects through a project development cycle. Prizes will be awarded to the best entries as determined by a panel of industry and Texas Instruments judges. This is the second consecutive year that Mouser has exclusively sponsored the TI contest.
The contest is open to individuals and teams of up to five undergraduate and graduate students in universities in the U.S., Puerto Rico, Mexico and Canada. To compete, students must use two or more TI analog integrated circuits (ICs) and at least one TI processor in their design project. For rules, please visit http://www.mouser.com/ti-innovation-challenge.
The contest is currently underway. It will end at 11:59 p.m. (CST) on May 27, 2016.
Entries will be judged on five criteria: Originality and creativity of design; real world application; level of engineering analysis; usage of TI ICs and processors; and a working demonstration of the design in a video. To learn more, visit http://www.mouser.com/ti-innovation-challenge.
The grand prize is $10,000. Second place is $7,500. Third place gets $5,000. Prizes of $1,000 will be awarded in each of 10 categories: Best use of TI wireless connectivity, most innovative automotive application, most innovative home automation application, best video demonstration, best humanitarian impact, best chance at commercialization, best use of entire TI portfolio, most unique concept, most "environmentally green" and most effective power solution using TI's WEBENCH Design Tool.
Mouser is an authorized distributor of Texas Instruments and stocks the widest selection of TI's newest components and development tools while providing same-day shipping around the world.
TI designs and manufactures analog technologies, digital signal processing (DSP) and microcontroller (MCU) semiconductors. TI is a leader in semiconductor solutions for analog and digital embedded and applications processing. A global semiconductor company, TI innovates through design, sales and manufacturing operations in more than 30 countries.
To learn more, visit http://www.mouser.com/Texas-Instruments.
To learn more about the contest, visit http://www.mouser.com/ti-innovation-challenge.
With its broad product line and unsurpassed customer service, Mouser caters to design engineers and buyers by delivering What's Next in advanced technologies. Mouser offers customers 21 global support locations and stocks the world's widest selection of the latest semiconductors and electronic components for the newest design projects. Mouser Electronics' website is updated daily and searches more than 10 million products to locate over 4 million orderable part numbers available for easy online purchase. Mouser.com also houses an industry-first interactive catalog, data sheets, supplier-specific reference designs, application notes, technical design information, and engineering tools.
About Mouser Electronics
Mouser Electronics, a subsidiary of TTI, Inc., is part of Warren Buffett's Berkshire Hathaway family of companies. Mouser is an award-winning, authorized semiconductor and electronic component distributor, focused on the rapid introduction of new products and technologies to electronic design engineers and buyers. Mouser.com features more than 4 million products online from more than 500 manufacturers. Mouser publishes multiple catalogs per year providing designers with up-to-date data on the components now available for the next generation of electronic devices. Mouser ships globally to over 500,000 customers in 170 countries from its 492,000 sq. ft. state-of-the-art facility south of Dallas, Texas. For more information, visit http://www.mouser.com.
Featured Product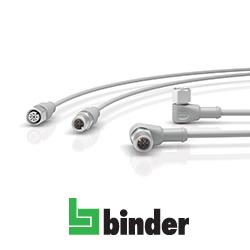 binder USA, LP, has expanded the M12 product family with the addition of the M12 A-Coded Connector, which is now certified for both Ecolab and FDA Code of Federal Regulations (CFR) Title 21 standards. The M12 A-Coded connectors are extraordinarily durable and IP69K-rated, ideal for harsh-duty and washdown applications in the food and beverage, pharmaceutical, and chemical industries. Available in 3, 4, 5, 8, and 12 contacts, the high quality stainless steel locking rings (V4A) and gold contact plating can also withstand UV exposure and shock and vibration.