"The automotive parts aftermarket has really hit the accelerator in its use of 3D printing"
HOUSTON--Changing Technologies, Inc. (OTCQB: CHGT) will be designing, prototyping and mass-producing a unique custom car mirror for a Houston-area aftermarket automotive parts company. The recently signed deal puts CHGT in the driver's seat in one 3D printing's fastest growing segments and sets the company on the road for potential future contracts.

"The automotive parts aftermarket has really hit the accelerator in its use of 3D printing," said CHGT CEO Marco Valenzuela. "Car enthusiasts are always looking to upgrade their autos from stock and want unique parts that will set their vehicles apart. This one-of-a-kind car mirror should be a popular accessory. But more importantly, with this work, we'll be able to make key contacts with other aftermarket vendors that have their own automotive products, which could drive additional projects and revenues down the road."
CHGT is rapidly building an impressive portfolio of work in the automotive segment. Earlier this year, the company printed prototype fuel injection nozzles and fittings for use in nitrous racecars.
3D printing is gaining acceptance in the auto industry because it can make lightweight parts at a low cost. Weight is a critical component as carmakers face ever-stricter federal fuel efficiency standards. Analysts expect manufacturers are close to being able to 3D print an entire automobile.
For more information on CHGT, please visit www.changingtechno.com.
For more information on 6th Dimension Technologies, visit http://www.6d3d.com.
About Changing Technologies, Inc.
Changing Technologies, Inc. (CHGT) is an emerging technology company focused on developing innovative concepts to bring to consumers. It recently created a new subsidiary — 6thDimension Technologies — to pursue additional growth areas and market needs in the booming 3D printing sector. A forward-thinking company working to be at the forefront of the next generation of consumer-based technology, CHGT is positioning itself to leverage global demand for the latest technological advances and services the company offers. Changing Technologies, Inc. is in the cutting-edge technology sphere alongside companies like Voxelijet AG (VJET), Arcam AB (AMAVF), and ExOne Co. (XONE).
Featured Product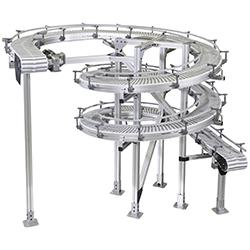 Dorner's 2200 Series SmartFlex Helix Conveyor's compact, flexible design and small footprint maximizes valuable floor space while providing customers with flexibility in layout. The custom infeed and outfeed lengths allow the conveyor to extend beyond the spiral, reducing the number of conveyors required. The Helix Conveyor is ideal for applications including accumulation, buffering, cooling between processes or machines, and more!