Delivering customer value at the high end of the engineered materials spectrum with premium industrial grades
DALLAS--Celanese Corporation (NYSE: CE), a global technology and specialty materials company, today announces it will expand the high end of its engineered materials product portfolio with the initial introduction of two premium industrial grades of Polyether Ether Ketone (PEEK) in the second half of 2016.

"With the addition of this ultra-high performance polymer to one of the worlds broadest, most technically proven materials product lines, Celanese will be able to deliver greater value to molders, extruders and end users in key industries including automotive, electronics, electrical, industrial and medical," said Scott Sutton, president of Materials Solutions for Celanese. "This is highly complementary for our customers to the current offering that Celanese has in the high performance polymer space including Vectra LCP and Fortron PPS that can enable growth for our customers."
End-use applications for high-performing PEEK polymers include:
* Automotive: small parts in aggressive service conditions, such as under-the-hood electrical connectors, allows auto makers to lightweight their vehicles contributing to higher fuel efficiency and reduced emissions.
* Electronics & Electrical: thin wall intricate components such as capacitors, connectors, resistors and micro switches allows E&E manufacturers to achieve their miniaturization objectives for parts that must operate under extreme service conditions.
* Industrial / Oil & Gas: stock shapes for machined parts such as rings, seals and highly filled profiles contributes to parts with high temperature corrosion resistance to operate under severe service conditions such as deep sea oil and gas recovery.
* Diagnostics & Analytical: complex geometries and precision miniature parts for diagnostic and analytical instrumentation exposed to a variety of liquids and gasses.
"Celaneses unique, proprietary flow technology enhances part-making productivity without compromising thermo-mechanical properties. It also leverages our capabilities in polymer backbone modification and compound formulation chemistry and our strengths in part design, simulation, prototyping, testing and processing," said Ashish Kulkarni, chief technology and innovation officer at Celanese.
Customer benefits from a Celanese PEEK offering
This expansion of the Celanese engineered materials portfolio with the initial introduction of two premium PEEK grades to include high flow PEEK and high flow reinforced PEEK will benefit customers as follows:
* Molders and stock shape manufacturers: many intricate parts with thin walls and tight tolerances must be machined one at a time. Celaneses advanced flow technology will allow for these components to be molded, thereby reducing cycle time and end part cost.
* Tier suppliers and OEMs: access to parts with improved thermo-mechanical properties, such as modulus, strength and heat distortion temperature, for use in high heat service conditions or in miniaturization applications requiring intricate, precise components.
Celanese will initially commercialize two premium industrial grades of PEEK with a planned product launch in the second half of 2016.
About Celanese
Celanese Corporation is a global technology leader in the production of differentiated chemistry solutions and specialty materials used in most major industries and consumer applications. With sales almost equally divided between North America, Europe and Asia, the company uses the full breadth of its global chemistry, technology and business expertise to create value for customers and the corporation. Celanese partners with customers to solve their most critical needs while making a positive impact on its communities and the world. Based in Dallas, Texas, Celanese employs approximately 7,500 employees worldwide and had 2014 net sales of $6.8 billion. For more information about Celanese Corporation and its product offerings, visit www.celanese.com or our blog at www.celaneseblog.com.
Featured Product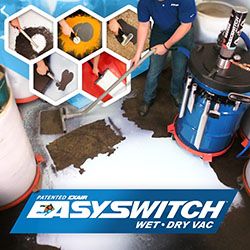 Super Air Wipe provides a uniform 360┬░ airstream that is ideal for blowoff, drying, cleaning & cooling of pipe, cable, extruded shapes, hose, wire and more. The split design offers easy clamping around the surface of the material moving through it. https://exair.co/184_525