FABTECH 2015, taking place at the McCormick Place convention center in Chicago, November 9-12
CHICAGO, Nov. 9, 2015 -- Ryerson (NYSE: RYI), a leading metal processor and distributor with extensive fabrication capabilities that range from profile cut shapes to painted, welded assemblies, will showcase its services at FABTECH 2015, taking place at the McCormick Place convention center in Chicago, November 9-12. Several examples of the complex parts Ryerson is capable of fabricating will be on display in the company's booth, C944.

"Ryerson is committed to serving customers, and we back our full-line of fabrication capabilities with one of the most extensive stock lists in the industry," said Brian Seeley, director of fabrication at Ryerson. "We look forward to showcasing our services at FABTECH 2015 as Ryerson continues to invest in technology, equipment and expertise to provide solutions that help streamline and improve customers' manufacturing processes."
Ryerson partners with customers throughout production to identify and resolve potential challenges. Fabrication services include cutting of all kinds, welding, painting, kitting and more. The company's differentiated approach to metal fabrication is rooted in its large selection of products and dedication to quality and service:
* Superior service - With more than 100 service centers throughout North America and beyond, orders arrive when they are needed, whether a product is due next month or next day.
* Extensive product portfolio - Ryerson offers more than 70,000 varieties of metal, including stainless steel, aluminum, carbon and alloy steel in all shapes and sizes.
* Quality assurance - All products are inspected multiple times throughout the production process before they are shipped to confirm they meet customers' exact specifications.
Media interested in scheduling an appointment to meet with Ryerson during the show can contact Sarah Sinitean: mediainfo@ryerson.com. To learn more about the company's fabrication services or to speak with a sales representative, email fabtech2015@ryerson.com.
About Ryerson
Ryerson is a processor and distributor of metals with operations in the United States, Mexico, Canada, China and Brazil. The company serves a variety of industries, including customers making products or equipment for construction, packaging, oil and gas and truck trailers. Founded in 1842, Ryerson is headquartered in the United States and employs approximately 3,700 employees in more than 100 locations. For more information, visit www.ryerson.com.
Featured Product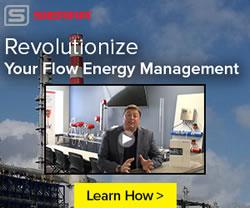 Sierra Instruments announces the launch of its new flow energy solution for managing and optimizing flow measurement for industrial facilities of all sizes. It features Sierra's QuadraTherm 640i/780i thermal flow meters, their InnovaMass 240i/241i vortex flow meters, and their new InnovaSonic 207i ultrasonic flow meter. Designed, built, and calibrated in the USA by Sierra, the Big-3TM share the same revolutionary Raptor firmware and many of the same software apps. They are a complete flow energy solution for flows like compressed air, natural gas, steam, and hot and chilled water. Together, they set a new standard in ease-of-purchase, performance, accuracy, reliability, and ease of use.