Dave Bird and Will Healy III of Balluff, Inc. will be presenting on the topic of Quality Management for Press Shops at the 2015 FABTECH event in Chicago, Illinois.
Florence, KY November 04, 2015 -- Balluff error proofing and stamping experts, Dave Bird and Will Healy III will be presenting on the topic of Quality Management for Press Shops: In-Die Process Validation & Post-Stamping Check Stations on Tuesday November 10th at 1:30pm in room S405B at McCormick Place at the 2015 FABTECH Show.

Session Overview:
Quality Management for Press Shops: In-Die Process Validation, Post-Stamping Check Stations & Error: For management, quality engineers and supervisors in stamping operations, part quality can be a source of frustration. Teams need to identify quality issues early and adjust quickly so they can have zero defects shipped to customer. This is readily accomplished through in-die process validation, electronic measurement and part tracking. Through real world examples we will discuss how press shops are successfully implementing 100% inspection of finished parts regardless of automation level.
FABTECH 2015, North America's largest collaboration of technology, equipment and knowledge in the metal forming, fabricating, welding and finishing industries, will offer more than 100 education sessions at this year's event. The targeted, technical, operational and managerial discussions are designed to help attendees gain knowledge from industry leaders and explore the latest technology and industry advancements. More than 40,000 manufacturing professionals are expected to attend the four-day event, Nov. 9-12 at Chicago's McCormick Place.
Visit Balluff at FABTECH in booth# S4167 and see press shop and stamping applications with RFID, sensors and non-contact coupling, along with automated welding solutions.
Learn more about Balluff at http://www.balluff.us
Learn more about the 2015 FABTECH event and see a complete listing of educational sessions at: http://www.fabtechexpo.com
Featured Product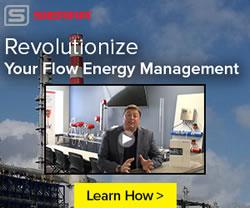 Sierra Instruments announces the launch of its new flow energy solution for managing and optimizing flow measurement for industrial facilities of all sizes. It features Sierra's QuadraTherm 640i/780i thermal flow meters, their InnovaMass 240i/241i vortex flow meters, and their new InnovaSonic 207i ultrasonic flow meter. Designed, built, and calibrated in the USA by Sierra, the Big-3TM share the same revolutionary Raptor firmware and many of the same software apps. They are a complete flow energy solution for flows like compressed air, natural gas, steam, and hot and chilled water. Together, they set a new standard in ease-of-purchase, performance, accuracy, reliability, and ease of use.