Axalta experts to present at FABTECH in Chicago, Illinois
HOUSTON--Axalta Coating Systems, a leading, global manufacturer of liquid and powder coatings, is pleased to announce that two of its knowledgeable professionals will lead technical sessions at the FABTECH 2015 show in Chicago, Illinois on November 9-12, 2015 at McCormick Place. FABTECH is one of the largest trade shows in the coatings industry.

In a technical session that will be held on November 9, 2015 at 1:30 p.m. titled, Powder Coating Basics, Axalta Southern Regional Manager, Bill Owens, along with John Sudges of Midwest Finishing Systems Inc. and Greg Dawson of Nordson Corp., will expound on the requirements of a well-designed, high-performing powder coating system from pre-treatment and powder material selection to application, recovery, and curing.
"Speaking at FABTECH gives us a chance to share ideas and practices with our peers in the powder coating industry," explained Bill Owens. "These sessions provide invaluable information, and a chance to network with your peers to help understand other approaches and solutions to powder coating issues."
Mike Wittenhagen, Axalta Technical Services Manager, along with John Cole, President of Parker Ionics will deliver Preventative Maintenance and Troubleshooting Your PC System on November 10th at 10:30 a.m. The presentation will focus on preventative maintenance and troubleshooting of powder applications. The session is intended to provide a complete understanding of the preventative maintenance requirements of a powder coating application systems and detailed application equipment troubleshooting.
FABTECH is an annual event that provides those in the powder coating industry with technical and applied technology forums, as well as information on product innovations and developments.
To register for the show or technical sessions please see FABTECHs website at www.fabtechexpo.com.
About Axalta Coating Systems
Axlta is a leading global company focused solely on coatings and providing customers with innovative, colorful, beautiful and sustainable solutions. From light OEM vehicles, automotive refinish and commercial vehicles to electric motors, buildings and pipelines, our coatings are designed to prevent corrosion, increase productivity and enable the materials we coat to last longer. With nearly 150 years of experience in the coatings industry, the 12,800 people of Axalta continue to find ways to serve our more than 120,000 customers in 130 countries better every day with the finest coatings, application systems and technology. For more information visit www.axaltacoatingsystems.com and follow us @axalta on twitter.
Featured Product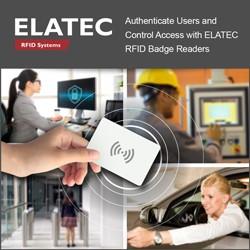 With a tap of the badge, RFID readers from ELATEC provide secure, reliable and easy-to-use user authentication, access control and usage tracking of hardware and software in industrial automation processes. Reader durability in harsh plant floor environments is another essential feature. Choose the right authentication and access control solution and extend RFID card-based capability for the access control of PLC, robot and HMI automation controller software and devices requiring special operator training.