According to the Make: digital fabrication team, the Ultimaker 2 Extended was selected because "The Ultimaker Extended gives you a great print area while not taking up your entire desk."
(AMSTERDAM)—November 3, 2015 — Make: magazine, leader of the Maker Movement and producer of the popular Maker Faire events, once again developed test scripts and benchmarks to run the current field of 3D printers, CNC mills, and resin printers through their paces to create the "Ultimate Guide to Desktop Fabrication 2016."

Make:s team of testers identified the top performing 3D printers across five classes, CNC mills across three, and chose their top two resin printers, naming Ultimaker's Ultimaker 2 Extended "Best Large Format" among the 3D printers tested.
According to the Make: digital fabrication team, the Ultimaker 2 Extended was selected because "The Ultimaker Extended gives you a great print area while not taking up your entire desk."
"We are thrilled to receive this recognition for the Ultimaker 2 Extended," says Siert Wijnia, founder and CTO of Ultimaker. "We are committed to keep innovating our products, ensuring it is not only about what we believe is important, but what our users want to use and see."
A team of 16 recognized experts in the digital fabrication field, led by Matt Stultz, Make:'s digital fabrication editor, put the machines through a battery of rigorous tests to create side-by-side comparisons of product attributes in order to identify the top performers. The buyers guide will be available on newsstands across the country by Nov. 26.
"The world of 3D printing has changed dramatically since 2012, when we first started this annual roundup devoted to showcasing the best machines in the industry," said Mike Senese, executive editor for Make: magazine. "The rapid evolution of the technology over the past three years has completely changed the landscape for 3D tools. Price has come down, product features such as auto bed-leveling are de rigueur, and the footprint has become smaller, especially for CNC mills. Now people—from home hobbyists to entrepreneurs—can use these tools for fun projects or for prototyping the next great invention."
About Ultimaker
From the very beginning Ultimakers vision has been to make 3D printing accessible to all. It is why all their desktop printers are extremely quiet, fast, accurate, reliable and effortless to use. Such a commitment has seen them embraced both by professionals and novices alike. This has also helped them to become one of the most successful and reliable open source 3D printing companies in the world. Most recently, the company was awarded best in shootout 2015 in the established Make Magazine, the editors choice by Digital Trends and best Consumer Product at the 3D Printshow Global Awards 2014. To learn more about Ultimaker, visit: https://ultimaker.com/.
About MAKER MEDIA
Maker Media is a global platform for connecting makers with each other, with products and services, and with our partners. Through media, events and ecommerce, Maker Media serves a growing community of makers who bring a DIY mindset to technology. Whether as hobbyists or professionals, makers are creative, resourceful and curious, developing projects that demonstrate how they can interact with the world around them. The launch of Make: magazine in 2005, followed by Maker Faire in 2006, jumpstarted a worldwide Maker Movement, which is transforming innovation, culture and education. Headquartered in San Francisco, Maker Media is the publisher of Make: magazine and the producer of Maker Faire. It also develops "getting started" kits and books that are sold in its Maker Shed store as well as in retail channels. The Make: brand caters to a universe of more than 25 million makers collectively across its Make: magazine, makezine.com, Maker Faires, and Maker Shed properties.
Featured Product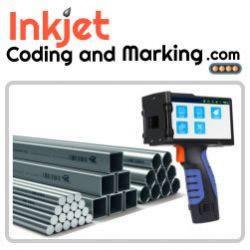 Print On Any Surface...Metals, Plastics/Composites and Glass. Handheld Printers and InLine Inkjet Printing Systems for Factory Automation, with PLC Control. Inkjet Coding and Marking Printers can be used for direct coding of parts or industrial products and compliance marking on Primary or Secondary Packaging. Small or Large Character Inkjet Coding & Marking with Barcodes and Logo Graphics printing. Integration with Handheld Barcode Readers (Scan and Print) for Track and Trace and Database connectivity printing of variables data. Motion Control Traverser Printing Automation. Top Brands: EBS HandJet 260, EBS250 HandJet, Sojet V1H Handheld Printer, Reiner JetStamp 790MP and RN Mark 7 Printing System.