Rockwell Automation today named four organizations as recipients of its third annual Manufacturing Safety Excellence Awards at the EHS Today Safety Leadership Conference.
The company recognized The Clorox Company, The Goodyear Tire & Rubber Company, Kimberly-Clark Corporation and Paper Converting Machine Company (PCMC) for their leadership in applying a holistic approach to safety maturity across their organizations.

"This years recipients display a true commitment to safety maturity across their organizations," said Mark Eitzman, safety market development manager, Rockwell Automation. "Theyve gone beyond approaching safety as a means to maintain compliance, and are embracing it at every level to achieve overall business goals."
The Manufacturing Safety Excellence Awards honor companies that make workplace safety a core business value by building a comprehensive program based on three key pillars: a strong safety culture, well-executed compliance procedures, and effective use of contemporary safeguarding and automation technology through capital investments.
Following are the details about the award winners:
The Clorox Company - A manufacturer of consumer packaged goods, Clorox makes collaboration between engineering and EHS inherent in every safety project because safety has become ingrained in the companys culture. "Safety became part of our global company culture when we labeled it a core value, instead of just a priority," said Jeff Deel, electrical instrumentation and controls engineering manager, Clorox. "Priorities can change over time, but our values remain constant. While weve seen improvements in productivity, throughput and competitiveness, the real focus is on ensuring that our partners and employees are well taken care of."
The Goodyear Tire & Rubber Company - Global tire manufacturer Goodyear has taken a proactive approach to safety by creating a corporate culture that values the wellness and safety of its employees, continually driving toward a goal of zero incidents and injuries. To help achieve this, engineering and EHS teams in manufacturing facilities around the world collaborate during all stages of introducing any new or retrofitted equipment or plants - from the design phase until final sign-off by the EHS team.
"When it comes to safety, compliance and regulations are certainly important. But in order to reach our target of zero incidents and injuries, we believe it is critical for our associates to make safety a personal value in their lives," said Mike Porter, director of global EHS, Goodyear. "Were very proud of the progress weve made with safety, but know that its a journey, and were committed to getting better every day."
Kimberly-Clark Corporation - Producer of personal care paper products, Kimberly-Clark has a long-standing commitment to safety improvement and the health of its employees as one of the founders of the National Safety Council. "Safety is fundamental to our organizational DNA," said Dennis G. Averill, CIH, CSP, global director of safety and hygiene, Kimberly-Clark. "We achieve success with everyone in the organization working and learning together, including engineering, EHS and operations. This collaboration is not only done conceptually, but also during the actual execution of risk assessments, safety standards development and more."
The company also continues to achieve safety improvements through its R.E.A.L. strategy, which addresses safety from all angles, including risk mitigation, EHS management systems, accountability and leadership.
Paper Converting Machine Company (PCMC) - As a manufacturer of tissue converting, packaging, envelope, nonwoven and flexographic printing technology and machines, PCMC has made functional safety an integral part of its machine design process. "We differentiate ourselves from competitors by guiding our customers through the safety process and educating them on the opportunities safety presents," said Jason Stover, senior electrical project engineer, PCMC. "Some might not recognize safety as a fundamental part of the equipment, but by the time were done, they see the value."
The 2015 Manufacturing Safety Excellence Award recipients join a distinguished list of companies that have been recognized as safety leaders. Past winners include Bevcorp, Corning Environmental Technologies, General Motors, Procter & Gamble and the PepsiCo divisions of Walkers Crisps and Pepsi Flavors.
http://www.rockwellautomation.com/
Featured Product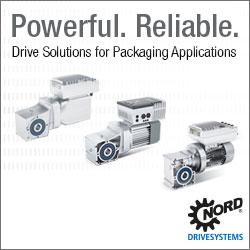 NORD's redesigned line of small CLINCHER parallel gear units showcase increased power and torque capacity for a variety of applications. These re-engineered versions will be replacing the existing SK0182NB, 0282NB, and 1382NB units. They are lightweight, have improved heat dissipation, are more cost-effective, and are available with NORD nsd tupHTM sealed surface conversion for wash-down and extreme environments.