Machine-Pro Products was started in 2003 by Nick & Randy Balster as a DIN rail company with a goal to supply the highest quality DIN rail at the lowest possible price.
Machine-Pro Products, an Ohio based company specializing in providing a wide range of DIN rail, DIN rail accessory, wiring duct & cutting tool products, has introduced another tool that is sure to make its customers excited.

The company has introduced the newly designed Dual Profile DIN Rail Cutter - a state of the art piece of equipment that is made out of the highest quality materials in Germany by some of the leading experts in the industry. The tool can be of great assistance in cutting some of the most popular geometries of DIN rail.
It can provide a burr-free cutting finish without any loss of rail, which is an essential quality for a top-notch DIN rail cutter.
This tool is a real time-saver and simply a must have tool that leaves no mess or small slivers that otherwise would have to be cleaned up. Its solid construction means it does not require any maintenance, other than an occasional sharpening with the included shearing blade.
Since the founding of Machine-Pro Products back in 2003, its owners and original founders Nick & Randy Balster has maintained the main objective of the company to supply the highest quality DIN rails at the lowest possible prices, and this newly designed DIN Rail fits the description perfectly.
There's simply no match for the Dual Profile DIN Rail Cutters in terms of their quality, durability and value. You can be certain that when doing business with the Machine-Pro Products and the brothers behind it, you will always get all the required assistance, get any questions you might ask answered, and will walk away with a great deal no matter what you might need.
Featured Product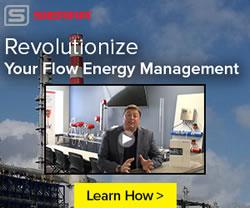 Sierra Instruments announces the launch of its new flow energy solution for managing and optimizing flow measurement for industrial facilities of all sizes. It features Sierra's QuadraTherm 640i/780i thermal flow meters, their InnovaMass 240i/241i vortex flow meters, and their new InnovaSonic 207i ultrasonic flow meter. Designed, built, and calibrated in the USA by Sierra, the Big-3TM share the same revolutionary Raptor firmware and many of the same software apps. They are a complete flow energy solution for flows like compressed air, natural gas, steam, and hot and chilled water. Together, they set a new standard in ease-of-purchase, performance, accuracy, reliability, and ease of use.